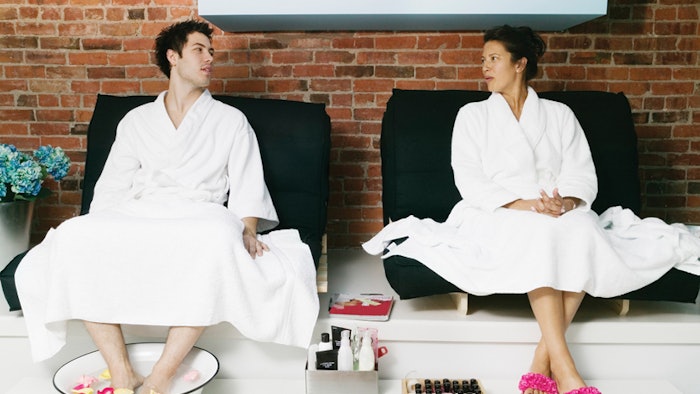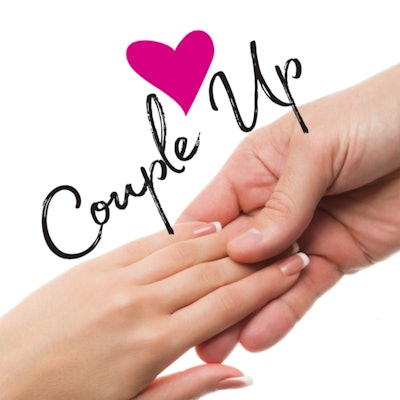 February is a time for love—and it's also a time to pump much-needed revenue back into your nail business. "January tends to be pretty slow for nail salons because many consumers are still experiencing a 'holiday hangover,'" says Carla Hatler, owner of Lacquer, with two locations in Austin, Texas. However, come February, Valentine's Day presents a perfect excuse for clients to once again open up their wallets, plus expansive opportunities to target both men and women, oftentimes together. "It's a wonderful way to attract new clients who might not regularly visit a nail salon, but will for a special occasion," says Somer Adams, owner of Labella Salon in Glastonbury, Connecticut. So how can you get clients to swoon over your services this Valentine's Day? Let's count the ways.
Share the Love
Don't limit yourself to just one kind of couple; instead, think broadly with your message, advises Katy Hancock, owner of Sugar N Spice Nail Salon in West Valley City, Utah, and author of Start to Success: A Nail Technician's Guide to the Industry. "There are as many different couples, lovers and types of love as there are people, so use universal, relatable key words and terms, like 'quality,' 'deserve,' 'loved one' and 'someone special,'" she explains. Further, you can promote Valentine's Day services in unexpected ways. For instance, rather than simply listing promotions on social media, "do a weekly post, such as fun facts about the benefits of eating chocolate during a pedicure treatment or why hard-working hands need TLC, too," suggests Hancock.
While your messaging may be broad, you still have a real opportunity to pinpoint the exact audience you want to reach with targeted Facebook and Instagram advertisements—a major boon for pulling in potential male clients, says Kayla Bramlet, manager of Frenchies Modern Nail Care in Littleton, Colorado. You can also offer Valentine's Day promotions on social media to local men's groups or men in relationships within a certain distance from your salon. "This tactic has worked well for our owner, Guy Coffey," notes Bramlet, who says that Coffey hand-delivers purchased gift cards as an added touch. "It's really grassroots, but it's been a big hit."
Court Clients Early
Be strategic in your Valentine's Day marketing rollout. "Thirty days in advance, we remind regular guests that they need to prebook their appointments the week of Valentine's Day so that our schedules are filled," says Ryan McEnaney, owner of Frenchies Modern Nail Care in Woodbury, Minnesota. "Then, as the day approaches, we switch our strategy to gift card sales for additional revenue." This game plan ensures that your salon locks in existing guests first, so you can move on to capturing last-minute gift-givers through promoted social media posts and targeted advertising, he says.
Keep it Classy
It's easy to slide into sappy territory when dreaming up your V-Day promotions and decorations, but remember: A personal, authentic tone and stylish dressings appeal to all sexes and relationship statuses. "Don't post hearts and flowers everywhere," Hatler cautions. "Some clients loathe Valentine's Day, so you don't want to travel too far down that path." Instead, you might want to focus on more of an indulgent angle. "Make your promotions about self- care, whether clients are giving a treat to themselves or someone they care about," Hatler notes.
Simple, chic decor will also help you score points with your entire clientele. "We keep our studio classic and clean so that those customers not celebrating
Valentine's Day don't become overwhelmed," explains McEnaney. Then, he sections off a separate, more intimate area for couples and outfits it with two sets of manicure stations and two additional sets of pedicure benches.
This doesn't mean you have to completely conceal Cupid. Certain mood-enhancers, like candles, heighten the service experience without putting off other patrons. "We play fun, [love-themed] music videos, as well as show rom-com movies," adds Valerie Griggs, owner of the 20 Lounge franchise, with locations in California and Arizona. "This gives couples something to discuss, whether they're watching Marvin Gaye's old-school video or the movie He's Just Not That Into You."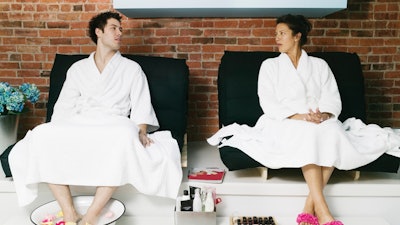 Make it Special
When plotting your Valentine's Day menu, target both men and women in search of gifts, whether they're shopping for themselves or a loved one. For instance, if women are seeking gifts for men, include hot stone pedicures on your menu, which Hatler reports are a big hit with men. Additionally, keep your nail art options on the more minimal and chic side—this way, even patrons who skip out on Valentine's Day might be attracted to the designs. "We love promoting nail art and holiday-themed colors," says Hatler.
For couples, while manicures and pedicures should be highly promoted offerings, you'll want to pair them with add-ons like reflexology or a special hand or foot mask, as well as— the clincher—a gratis signature drink, says Adams. "Honestly, even the most macho man will be hooked," she says— and hooking them, long-term, should be your goal. After all, any of your Valentine's Day specials can be continued throughout the year with some minor tweaks (think: date-night and anniversary services). So, when the couples' service commences or concludes, gently let them know your salon will take care of them for future dates. "I always offer a special promotion for my clients' anniversaries to encourage them to come celebrate at my business," Hancock says.
Sweeten the Deal
For special packages and promotions, offer just enough of a discount to attract couples without undercutting your services too much. "We usually discount services by $10," says Griggs. "This is enough for clients to feel as though they are getting a deal, but we aren't losing too much in revenue." McEnaney agrees, and points out that a slight discount now (plus low-cost additions, like complimentary sweets and champagne) could equal an increase in future profits.
According to both McEnaney and Hancock, men can be especially loyal. "We've seen a steady growth in men as regular clients, as well as for men's nights and date nights, due to this type of couples' experience." In other words, once you hook clients, you'll establish a relationship they'll ultimately look forward to celebrating any day of the year. "Sometimes it's not about the instant dollar, but rather, it's about getting the person in the door to try something new, and making the service so good that he or she can't wait to come back," says Hancock.
The Buddy System
Partnering with local businesses can sweeten the deal on securing Valentine's Day bookings— especially for men who prefer shopping in one place. "Partner with a local restaurant to promote a special night out," suggests Somer Adams, owner of Labella Salon in Glastonbury, Connecticut. Clients can indulge in your salon services and then enjoy a romantic dinner, all in one discounted package.
Or, set up clients with a glamour shot package. "Connect with a florist, massage therapist, hairstylist, photographer and makeup artist, and offer group discounts for services that your clients will be looking for when wanting to look flawless and feel fantastic on Valentine's Day," says Katy Hancock, owner of Sugar N Spice Nail Salon in West Valley City, Utah. "In the end, you will cross-promote your business, save your regular clients money and attract new clients!"
Flying Solo
Not everyone is in a relationship—and that includes your regular and potential clients. So, you can also target the singles in your salon on Valentine's Day by promoting services through the lens of self-care. "It's a message that resonates with everyone, whether you're single or in a relationship," notes Carla Hatler, owner of Lacquer in Austin, Texas. "Especially after the holidays, everyone is looking to get back in shape, and taking care of oneself and feeling good is part of that."
Of course, you can tailor Valentine's Day promotions to singles—just be sure to employ humor, as well as play up empowerment. "The focus and marketing approach is going to be very different for this group, as some singles hate the mere idea of Valentine's Day," says Hancock. Pepper your promotions with key words like "young" and "independent," and build around the idea of self-investment and confidence, she suggests.
Singles often lean on their friends, so including friendship-aimed specials will also resonate. "We have 'Galentine's' services: Bring your best girlfriends, grab some bubbly and talk trash—all while getting your pedi on," says Valerie Griggs, owner of the 20 Lounge franchise. "It's a hit every time!" Or, spotlight your referral program with the singles set; friends share with friends, after all. "What better way to show their best gal pals that they care about them than with a referral to their amazing nail tech and favorite salon?" Hancock laughs. "It's a win-win."
– by Karie L. Frost
[Images: Getty Images]
This article was fist published in the February 2018 of NAILPRO