In a fast-paced, high-tech world where people expect to get almost anything delivered to their doorstep, it should come as no surprise that beauty services have been what's being called the "Uber" treatment. More specifically, a number of beauty-on-demand apps now enable clients to order everything from in-home blowouts and haircuts to makeup application and massage—and, best of all, nail services are some of their most requested menu options. "When we first launched, I was a bit surprised that people would pay more for a manicure when it's so affordable and available on every street corner," says Los Angeles-based Sarni Rogers, director of marketing for beauty-on-demand app Priv. "But, convenience won over price—plus, we have some incredible nail pros."
As appealing as these apps are to clients, they're also embraced by beauty pros who want to connect with new customers, fill in gaps in their schedules or earn a higher commission. "At first, I was doing three to five jobs a week, but now I'm doing three to five services per day," says Farah Yazid, a Los Angeles-based nail tech who works with the Joiful beauty and wellness app, also headquartered in Los Angeles. "My favorite part is the locations and types of clients I get to work with. I have been to 5-star hotels, huge mansions in Malibu and Beverly Hills, and lofts downtown. The clients are relaxed, easy to be with and so grateful I came to them." Although most apps primarily serve major metropolitan areas, client demand is leading to rapid expansion—and that means these companies are actively seeking more beauty pros to sign on with them. If the idea of working as a mobile manicurist excites you, read on to learn what's involved and how you can get in on the action.
Understanding the Market
There are plenty of reasons that beauty- on-demand apps are popular with clients. "It's great for stay-at-home mothers who can't leave the house with kids and babies, elderly clients who can't drive themselves, widows who need to get ready for a funeral and don't want to go to a salon, among others," notes Patricia Ivancich Dassios, CEO and founder of La Mienne, which caters to California's San Francisco Bay area. For some clients, having a beauty pro come to them also eliminates the potential frustrations of a salon experience. "Salons may be loud or have long wait times," explains Yazid, who adds that the clients she sees via the Joiful app tend to be more relaxed and comfortable at their own place.
Corporate clients also use on-demand apps as an in-office perk. "We've realized that a lot of tech companies in Silicon Valley are trying to attract and retain female employees," says Dassios. "We went to one company that wanted to start doing nail services every other week and expected they would have 10 to 20 people at any one time, but when we arrived we had more than 50 clients." Hotels use the apps for in-room services, too. In fact, Bella on Demand has partnered with 5-star hotels, including The Four Seasons, The Ritz Carlton and the Mandarin Oriental Hotel in New York City, Miami and Washington, D.C., to provide beauty treatments to travelers. "Clients book Bella on Demand for weddings, special events and parties," adds Amy E. D'Agonstino, the app's New York City-based founder and CEO.
Office Space
Less interested in making house calls and more into the idea of working with corporate clients? Then consider becoming a technician with The Red Door at Work. Previously known as Manicube, which was founded by two Harvard Business School alumnae in 2012 and acquired by The Red Door by Elizabeth Arden in late 2015, the company partners with HR managers at major corporations to offer weekly, in-office personal care services, including manicures and pedicures. There are also opportunities to work at events sponsored by their corporate clients, including top fashion and retail brands, as well as celebrities. With both full- and part-time opportunities available, The Red Door at Work also offers a competitive compensation package that includes bimonthly pay plus tips, performance bonuses, health insurance, 401(k) retirement benefits, paid vacation, and continuing education and training. They are currently serving the New York City and Chicago regions.
Getting the Gig
Although many beauty-on-demand apps are eager to add more techs to their teams, as with any other job, there is usually a comprehensive screening and hiring process. To begin, techs typically fill out an online application and upload their cosmetology license. After that, they'll often have a video or phone interview, followed by a technical interview—either online or in person—where they demonstrate their skills. In some cases, showing a portfolio with their work may be all that's required.
Most app companies also perform a background check and recommend that techs have their own insurance. "As an independent contractor, a mobile manicurist is not required to have insurance, but we do recommend that everyone protects themselves," says Chad Law, vice president of sales and marketing for Joiful. "If a mobile manicurist needs help securing coverage we can certainly help them find an affordable option that meets their needs."
Learning the Ropes
Once a tech is brought on board, the company typically provides training for using the app and responding to job requests. "Each stylist sets her own schedule on the backend system," says Cara Santana, cofounder of The Glam App in Los Angeles. "During their hours of operation, the stylist will be notified of all incoming appointments, at which point they can log into their portal and choose which ones they would like to accept." Techs say the process is easy. "The app does all the work for me," says Yazid. "Joiful markets, books and notifies me of the jobs as they come in. I can then choose to accept the job and head to the client." Ajahmure Clovis, a New York City nail stylist who offers services through The Glam App, agrees: "It's quick, easy and convenient. When I'm available, I turn my hours on, and when I'm not, I turn them off. I get to focus on what I love to do, and that's nails. The Glam App handles everything else."
Many beauty-on-demand apps also offer complimentary technical and business training. "We bring in professional educators who teach the latest tips, tricks and trends in classes that would normally cost our artists hundreds of dollars," says Dassios. "We also teach them soft skills on how to be professional and present themselves in the best way so they can grow their freelance business." Techs say theses educational offerings are an added incentive to sign on. "The Glam App has frequent trainings, offering great insight on how to run a business more effectively," says Clovis of the biannual educational program, The Glam App Academy. Similarly, when Yazid joined Joiful, she received a library of videos and a calendar of events and webinars for additional training. "I watched the first webinar and it was really fun," she says.
Doing the Job
Servicing clients in their homes or offices will obviously call for a different setup than working in a salon, but most techs have no trouble adapting. "They simply make sure that the client has a table or flat surface and ask for good lighting," says Dassios. "A lot of times, with corporate clients at companies, they'll use a small conference room." Clovis generally lets the client decide where the service will be performed. "It's all about making them feel as comfortable as possible," she explains. Law agrees that it's best to let the client dictate the treatment location. "It could be in the living room, bedroom or patio," he says.
While some companies require that techs have a full kit ready to go, others offer products and supplies to their beauty pros. For instance, Joiful has partnered with Dazzle Dry to provide full mobile kits. Yazid generally brings about 15 color choices, along with scrubs, oils, towels and all her tools. "Our kits are packaged as one-time use for sanitation and portability," she notes.
Most of the app companies don't require a uniform; they simply ask that techs dress in simple, professional attire. "Because I'm going from gig to gig, I typically wear all black to my appointments and, occasionally, I'll wear my Glam App T-shirt," says Clovis. La Mienne also provides complimentary aprons branded with the company name. "The artist usually prefers to wear the apron, but they don't have to," says Dassios. "We just ask that they represent the company well."
Reaping the RewardsTechs say that there's a lot to love about working with beauty-on-demand apps. "In the salon, I wait for someone to walk in, and I work extremely hard to keep them coming back. But with Joiful, I turn on the app and have a steady stream of clients," says Yazid, who adds that she sees Joiful clients after wrapping up at the salon, as well as on her days off. "On average, I do 30 clients a week, with 50 percent of those through the Joiful app." The ability to have a flexible schedule is embraced by a lot of artists. "I like being able to make my own hours," says Josalyn Irving, a Miami-based nail stylist who offers services through The Glam App. "Going to meet new clients every time is different, but it's well worth it."Another big draw for nail professionals is the compensation. "Every week, my total earnings are direct deposited into my account and I keep 100 percent of my tips, which have been surprisingly high," says Yazid. "I'm earning between $50 and $75 per service plus tips, and even though I may not be able to perform as many services in one day as the salon because of travel time, I earn more money so it more than balances out in my favor." Techs working with The Glam App are equally pleased with their earnings. "The payment process is a breeze—the money goes straight into my bank account—and I've made as much as $238 in one day," says Irving. Clovis adds: "I make more with The Glam App than I did when I was working in a salon. I've been mobile for a long time and signing up with The Glam App was one of the best things I've done for my career."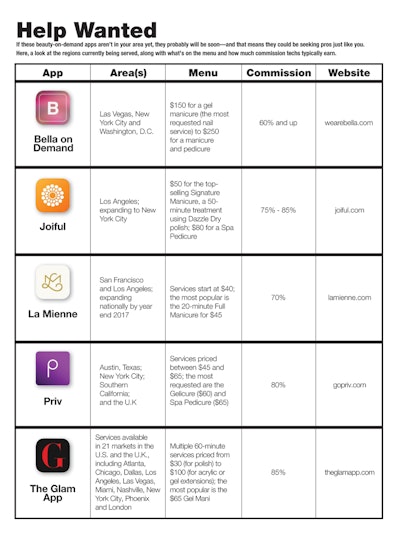 –by Alexa Joy Sherman
Apps that deliver beauty services to clients in their homes and offices are taking off, big-time—and nails are a huge part of that platform. Here, everything you need to know about joining the mobile manicurist movement.