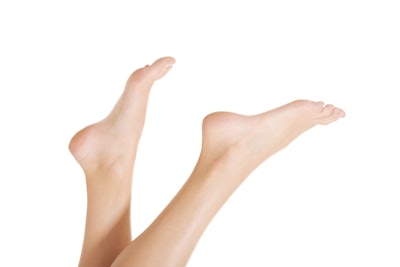 Pedicure season is here! Clients have shed their wool socks and winter boots for strappy summer sandals and pretty painted toes. To help you get your fair share of the market (and then some!), we tapped salon owners around the U.S .to share their most successful strategies for a runaway pedicure season.
1. Partner up with brands you love. Enlist the help of your favorite brands to help sell your pedicure service. A new color collection or service created around a line of products may be just the thing to peak clients' interest, and tip the scales toward a full book. "We partnered with Floss Gloss to promote their new colors," says Rita de Alencar Pinto, founder of Vanity Projects in New York and Miami. "We offered a basic mani/pedi at a discounted price, and pushed [the promotion] through social media channels." Similarly, Carla Hatler owner of Lacquer in Austin, Texas, used pedicure season as an opportunity to introduce clients to Footlogix. "We created a new pedicure on our menu using the full line of Footlogix products and we offered any customer that booked a Deluxe pedicure a complimentary upgrade to a Footlogix pedicure," says Hatler, who adds that the staff was also trained on the ingredients and benefits of the line. "It was so successful because the team felt like they had something special they could give to their clients and clients were surprised and delighted by a complimentary upgrade. It resulted in rebookings and dramatically increased our home care sales of Footlogix products."

2. Hand out swag. Everyone loves free stuff, and clients are no different. Use the opportunity to send home a sample that will help them care for their feet—and with every use it will remind them that they need to book again with you. "Spend a few extra dollars for gifts for your clients. In spring, we offer a complimentary foot file for clients to use use in the shower," says Jeffi Girgenti, owner of The Nail Café, Inc., in Woodland Hills, California. "For summer, we offer a 1-ounce size crème for their purse. We advise clients to use the lotion on their hands and rub the excess cream on their heels when wearing flip flops."
3. Create a buzz around your pedi bowls. Clients may take for granted that you offer a comfortable chair and a soothing soak with each pedicure service. Remind them just how super your salon is by drawing attention to your upgraded equipment, superior sanitation or eco-friendly services. Traci Dungan, co-owner of the ProFiles franchise in Florida, recently promoted the salons' revamp of its pedicure areas in local advertising and on social media. "We brought in new portable tubs made especially for pedicures and we've incorporated hot stones into the service," says Dungan. "We also reminded clients that we use a hospital grade cleaner for the tubs and stones that meets state board and OSHA standards."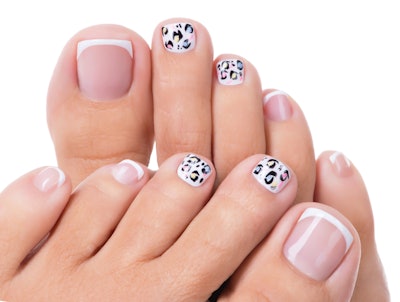 4. Offer a complimentary service. Entice clients to book a pedicure with simple add-on services. "For a limited time at the start of pedicure season, I offer two free simple hand-painted toe nails with the purchase of my spa pedicure or ultimate pedicure," says Lucia Etchamendy, owner of Lucia's Hair and Nail Salon in Barstow, California and general manager at The Spa at Fort Irwin, California. Girgenti also encourages clients to book an elevated service by offering a free manicure with every spa pedicure.
5. Call out your pedi credentials. Got special training to perform medical grade pedicures or the skills to work on a specific population? Or, are you a whiz at toenail art? Let your clients know! "My most successful marketing promotion was to set myself apart from the ordinary salon in my community of Key West," says Karen Hodges, owner of Morning Glory Beauty in Fort Myers, Florida. "I took Janet McCormick's Advanced Nail Technician training course and applied all the teachings in the course to create a referral relationship with the podiatrist in my community. I made sure my cards were available at both the podiatrist's office and the dermatologist's office in my small town. The word got around that I was the person for diabetics or other chronically ill persons to come see." No matter which promotion you push, it's imperative that your pedicure section is geared up and ready to go.
Here, the latest and greatest in pedicure chairs, tubs and bowls: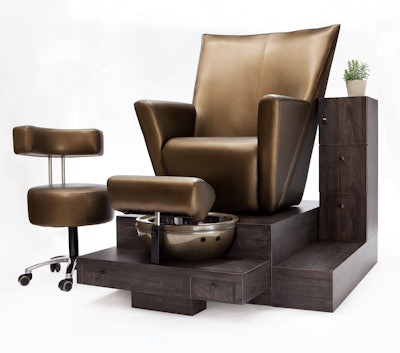 Complete with gold furnishings and client controlled heat and vibration, the Belava Elevate also features a built-in platform with an attached cabinet and pedicure tub. The chair pivots for easy client access, plus, techs can adjust the chair's position (up and down, and forward and back) to work comfortably. 888.708.7131, belava.com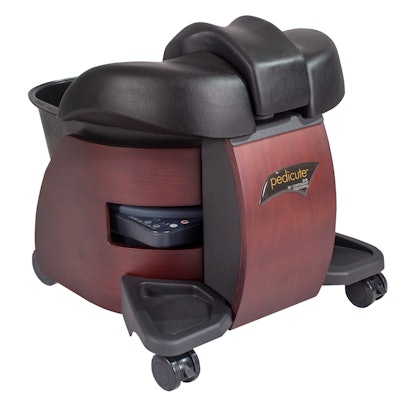 The compact and portable Continuum Pedicute features adjustable leg support, three levels of vibration and heat for client comfort and requires no hoses or connectors. Plus, the eco-friendly design uses just 1.5 gallons of water per service. 877.255.3030, mycontinuumpedicure.com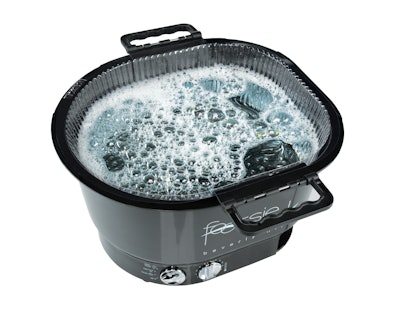 The Footsiebath Professional Pedicure Spa features an ergonomic design, soothing vibration and temperature control, and a fully retractable cord for easy storage. 533.8535, footsiebath.com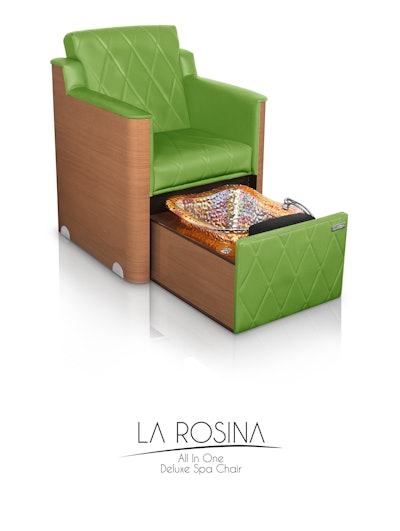 The Gulfstream La Rosina features sleek, modern lines and a hidden plumbed foot bowl that slides in and out from the base of the chair. The chair also features back and seat massage, and an optional manicure table for a multi-functional piece with a small footprint. 877.622.4853, gulfstreaminc.com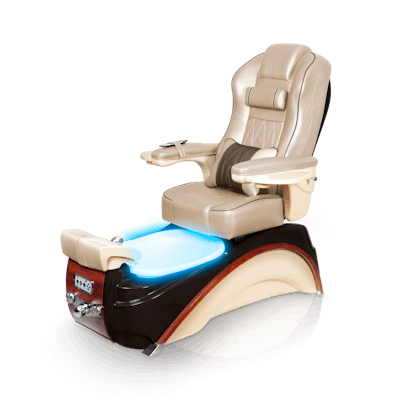 Designed with busy techs in mind, the Lexor Elite features the Auto-Fill System. Switch it on and the basin fills completely. Once the basin is full, the water automatically shuts off and the whirlpool jets start, leaving the tech more time to focus on the client. The chair also includes a Digital Control System that allows techs to easily monitor the temperature, seat position and the LED color-changing bowl display. 888.479.6916, lexor.com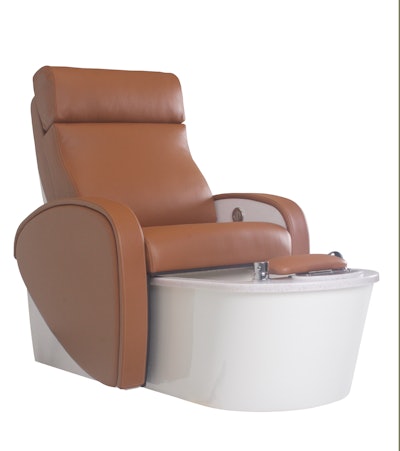 The Living Earth Crafts Contour features a retro mid-century silhouette paired with modern day amenities, including a seat with automatic recline, heat and massage, a fiberglass tub (complete with reflexology nodes) and a sleek embedded control panel. 800.358.8292, livingearthcrafts.com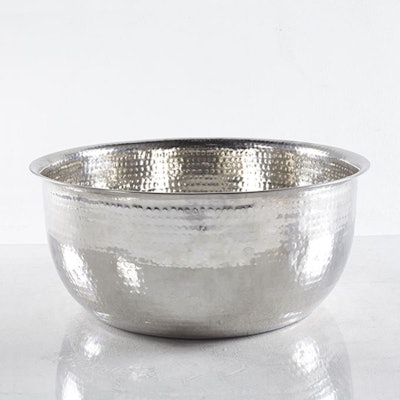 The stylish Noel Asmar Stainless Steel Pedicure Bowl can be integrated into almost any salon design. Plus, its lightweight construction makes it easy to use, and the bowl is durable and a cinch to clean between clients. 800.772.1408, pedicurebowls.com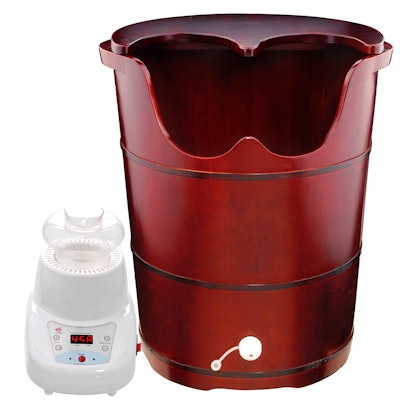 As alternative to the traditional pedicure tub, the portable and eco-friendly Red Dragon Steamer Sauna and Barrel uses just one cup of water per service. Crafted from mold-resistant wood, clients place their legs inside the barrel, resting their feet the included foot massage platform. In lieu of a soak, a separate device (attached to the barrel via a flexible tube) creates enough steam for a 15-minute treatment. 800.669.9430, nailsuperstore.com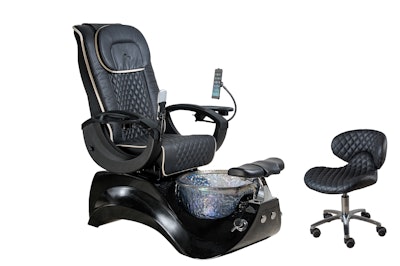 The Whale Spa Alden Crystal is built for busy salons with acetone- and abrasion-resistant leather seating and a sloping chair design that allows techs easy and comfortable access to clients' feet. For clients, the model offers purse hooks, customizable Shiatsu massage and an optional iPad holder. 888.650.7888, whalespainc.com —Jennifer Carofano
What's your favorite pedicure promotion in the salon? Tell us in the comments, below.
[IMAGES: (Top) Getty; (Products) Courtesy of Manufacturer]
This article was first published in the May 2017 issue of NAILPRO.