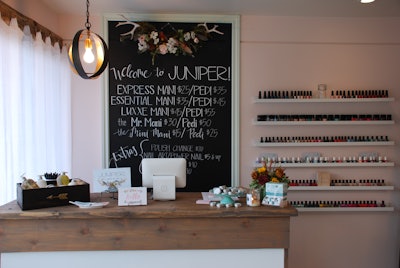 This Seattle-based natural nail bar offers a small-town vibe and upscale services featuring organic products.
DISTINCTION
Juniper is located in the West Seattle Junction, in the heart of downtown West Seattle. We are proud to be the first natural nail bar in West Seattle offering all-natural nail services in a cute, cozy and friendly environment. The surrounding neighborhood is filled with local shops, restaurants and a weekly farmers market.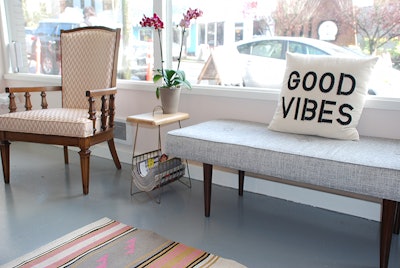 THE LOOK
Our design inspiration is rustic chic. My mother, Lori Stubberfield, did all of the design work (@flourishdesignseattle) and incorporated touches of gray and pale pink, as well as repurposed wood. Additionally, the décor of the space was influenced by our nearby sister location, Flourish Beauty, a full service salon and spa.
THE CLIENTELE
Our clients range in age from 5-years-old to 80 and a majority live in the neighborhood. We see a lot of mom's on their own or with their daughters, as well as business professionals who want nail art. Clients are seeking us out, so we've decided to open a second location this month in North Seattle.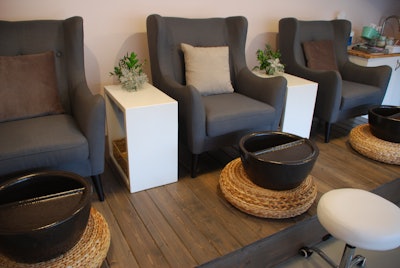 IN-DEMAND SERVICE
Our most popular service is The Luxxe Pedicure ($55). It starts with a soak in essential oil infused water, followed by a nourishing exfoliation with organic scrub, callus and cuticle care, shaping and a final massage with Eminence organics hydrating lotion/balm before polishing the nails. On average, services are $45 and roughly 45 minutes.
THE GOODS
All of our polishes are 3-, 5- or 7-free, and include LVX, Deborah Lippmann, Ella+Mila, RGB, Vinylux and BioSculpture Gel. Our creative director, nail artist Kelly Ornstein (@kellyohstein) keeps our shelves stocked with the newest seasonal colors and supplies for nail art trends. On the retail side, we carry body care products from local brand Handmade La Conner and luxe organic skincare line Eminence Organics. We also use both of these product lines in our nail services.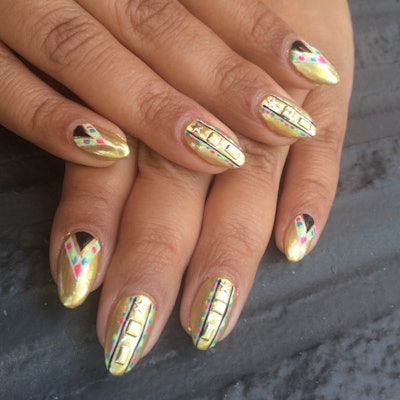 SOCIAL MEDIA
We love Instagram! It's a great medium to showcase the work of our amazing nail techs.
PRAISE
We love it when clients say that Juniper is incredibly clean, beautifully decorated and has wonderful people. A clean and healthy approach, a focus on luxe pampering and a neighborhood vibe have been the key to our success as a team and a salon.
ADVICE
Treat your employees like gold! A happy, positive workplace is the best place to be. When you do this, your clients will notice and want to support your business—and come back again and again.
Juniper A Natural Nail Bar Facts: 
Owner: Tiann Hadeed
Year Opened: 2015
Address: 4155 California Ave. SW, Seattle, WA 98116
Phone Number: 206.937.1777
Hours of Operation: Mon. – Sun., 8 a.m. – 7 p.m.
Website: junipernaturalnailbar.com 
[Images: Courtesy of Juniper A Natural Nail Bar]