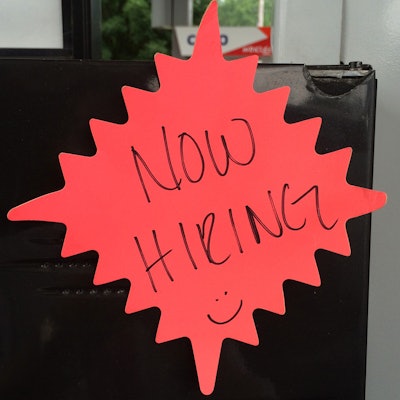 Learn helpful tips and tricks for hiring and keeping first-rate employees.
The quest for the perfect employee and staff for your salon is no easy task. At first, when looking for new employees, you might think a daily job posting on beautytech.com will provide you with a flood of potential employees. But to truly find qualified candidates who fit in with your salon, you need to invest some real time and effort into your hiring practices. Big and small salons alike have a multi-step, multi-month employment process that sometimes still ends with a parting of ways. Employers must find that delicate balance between hiring, training and retaining a new staff member, while also keeping her motivated, paid and humble. Read on to discover how to build a talented and reliable team of employees from experienced salon owners.
To Hire or Not to Hire
Dashing Diva, a nail spa and salon franchise with 28 locations worldwide and 13 in the U.S., is a prime example of efficient hiring practices. The chain interviews hundreds of potential employees each year with a hiring rate of barely 20%. "The average stay for a [nail] technician at one company is six months," says Michael Park, director of operations for Dashing Diva's U.S. division. "We do things differently so that [employees] stay at Dashing Diva's an average of 12 to 15 months." Park explains that four years ago, corporate decided to restructure the labor market by changing the hiring process. There are basic requirements a candidate must meet while interviewing, and surprisingly experience isn't always one of them. "It's not always better to have experience," Park reveals. "It's important that the interviewee understands and agrees with the Dashing Diva way. A lot of seasoned technicians are very stubborn, and it's tough to make a change with that kind of person."
For Dashing Diva, a candidate that possesses the proper working papers and documents, has basic English conversational skills and subscribes to the Dashing Diva approach may receive an offer to join one of the corporate-owned salons on a probation status. The official full-time offer comes after the hire passes the intensive 13-week training program, which includes three weeks of education on sanitation and the Dashing Diva philosophy, two weeks of service training and then two months of interning with weekly reviews. This detailed interview process and lengthy probation period separates the not-so-serious nail techs from the ones who will stay with the company for the long haul.
Training Season
Training a new employee takes time and money, therefore, every salon must develop its own program that works best for its size and location. Brittany Molina, owner of Jacksonville, Florida-based Brittany's Spa Salon, administers a four-step interview process and months of training to make sure that she finds the right employee for her salon. But even after this lengthy process, Molina says that two of her new hires wanted too much right away and, as a result, they didn't last very long at the salon. Although she provides her technicians and stylists with a comprehensive support team, she says it's still a "competitive business requiring continued education, attention to every detail and consistent rebooking. They gave up too soon." Even though it didn't work out with those two techs, Molina understands the importance and benefits of taking extensive measures to find a long-term employee. She now requires anywhere from 3 to 12 months of training before an employee may work independently on the floor. And after earning the elite status of an Intercoiffure salon in 2008, her employee standards soared even higher.
In addition, Molina is proactive with her hiring practices, as she visits local cosmetology schools to find potential candidates for employment. "One to two times per year, I go to different schools like the North Florida Academy, North Florida Institute or The Paul Mitchell School to do a presentation. Then I hand-pick one or two of the best students to interview." Once the candidate makes it through Molina's extensive interview process, the training begins.
Molina understands the risk of hiring a graduate right out of school. "Sometimes when they come directly out of school, they want their way on everything too fast," she says. "School is just a foundation. It's like graduating high school and then training here is like going to college. The ones that work hard by studying more, analyzing trends and honing their skills will make a great career for themselves."
Hired, Trained and Retained
Once you've chosen and trained a new employee, a big part of keeping her satisfied and working is keeping her encouraged. Sheridan Hoffman, owner of Salon Kashmir in Lake St. Louis, Missouri, works hard every day to make sure that her team is motivated, cohesive and happy to be there. "We have huddles every morning. We're implementing new things all the time, so we take that time to clear our minds and stretch, because our bodies are our tools," she says.
Hoffman also keeps a close watch on the vibe at the salon. "Drama can be a huge part of the industry and that energy can be felt within a 10 foot radius, so it's important to keep it positive," she says. Despite the upbeat work environment at Salon Kashmir, there are still employees who fall through the cracks. Since Hoffman's salon opened in September 2008, two employees have already left. "They were not the right fit," Hoffman says. "Negativity is like a cancer, and because of that, sometimes a parting of ways is better for the salon as a whole."
Similarly, with such a time intensive hiring and training process at Brittany's Spa Salon, Molina strives to retain her handpicked employees. To sustain their desire to stay and earn more, Molina explains, "in this tough economic time we have to be creative, not only with the client but with our employees; we need to market to them as well." Molina holds contests and promotions for the employees to boost morale. During the last holiday season, they created postcards with unique codes on each for employees to distribute to clients. The one who attracted the most new customers won a flat screen television. "It's a great way to keep positive and stay strong," Molina says.
Dashing Diva has created a comprehensive plan to keep technicians positive about their careers and placement in the company. "We've uplifted the position of technician by offering higher wages and more adequate working conditions," explains Park, and according to him, the average hourly rate at Dashing Diva is approximately 40% higher than the average nail salon. After three months with the company, they offer health insurance and holidays off. Dashing Diva also pays 10% commission on every service and retail item sold.
Besides health benefits and competitive pay, Dashing Diva prides itself on going above and beyond for the health and safety of their employees. To counterbalance the fumes that nail techs tend to work around, Dashing Diva has made it a company-wide procedure to use environmentally friendly products in the salon. "We make our own products, so we know what's in them. Our polishes do not have the toxic ingredients toluene, formaldehyde or DBP. The disinfectant we use, Accel, is very green," Park boasts. "The health of our technicians is above par for the industry."
By implementing appropriate hiring strategies and training for new hires at your salon, you will be able to craft a staff that works efficiently, cohesively and cheerfully. From big chain salons to small spas, there are countless ways to keep good employees happy and not-so-good employees away. And with a positive, career-building attitude, employers have proven a better success-rate with hiring and retaining top-notch employees.
– Natasha Goyette
Images: Steven Depolo via Flickr