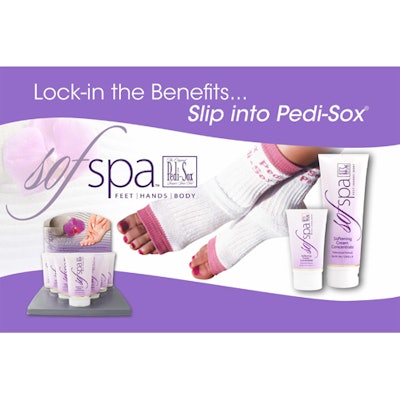 Summer is on its way, meaning clients' feet will be particularly in need of some therapy, especially if they wear flip flops or sandals frequently. Rather than just filing away in vain at thick calluses, which is not particularly enjoyable for you or your client, use SofSpa and Pedi-Sox together for a specialty pedicure that will combat cracking, dried-out skin. You may choose to allow clients to purchase their own Pedi-Sox from you that they can then reuse at home (included in the cost of the pedicure), or retail the entire kit at your salon for clients to take home.
SofSpa Softening Cream Concentrate is an intensive cream that deeply penetrates skin to soften feet and fade calluses. Apply to feet, and then put on Pedi-Sox. For best results, allow Pedi-Sox to be worn home, and instruct client on instructions for removal later after SofSpa has had adequate time to repair skin. Because Pedi-Sox have an open toe, you can still paint toenails, and your client can then wear her sandals out the door at the end of the appointment!
Catherine, the blogger behind Our Village Is A Little…Different reviewed SofSpa and Pedi-Sox in conjunction with each other. Though she got regular pedicures, her feet still got rough patches between visits, especially during "flip-flop weather" and she hoped SofSpa would give her a solution. And it did. Just a little dab of the thick, moisturizing SofSpa cream followed by wearing the Pedi-Sox overnight gave Catherine smooth, healthy heels that didn't terrify her nail technician next time she went in for a pedicure. You can see the full blog entry here.
You can purchase SofSpa and Pedi-Sox here.
[Image: Pedi-Sox]