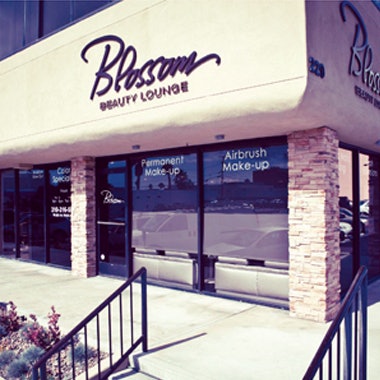 It was a simple coffee run that led to the opening of Blossom Beauty Lounge, a full-service salon in Redondo Beach, California. Owner Cammy Nguyen was renting a station in the back of a salon when she spotted a vacant store for rent on her regular walk to a neighborhood coffee shop. Nguyen jumped on the opportunity to fulfill a lifelong dream, and Blossom was born. The salon just celebrated its first anniversary in April, and is now one of the hottest shops in the South Bay for gels and nail art. "I have put everything into this place," says Nguyen, a Gardena, California, native who grew up working with her mother and aunts in various salons before getting her license at 18. Her dedication, combined with her employees' talent, has turned Blossom into the place for innovative, contemporary nail art.
5 Reasons Why We Think It's Fabulous
1. The nail art speaks for itself. Blossom doesn't do happy hours, offer Groupons or promote massive deals (though it does give clients 20 percent off for referrals). Instead, its extensive waiting list is a result of word-of-mouth testimonials and the salon's wildly popular Instagram page. "Everyone has to have a design on their nail now," says Nguyen. The staff at Blossom, which includes six nail techs, completes at least 40 designs during salon hours and posts some of their best work to Instagram. Taking a page from a Beverly Hills salon, Nguyen created a Blossom Beauty Lounge backdrop on which clients model their freshly designed tips in a variety of poses. "It's like a little photo shoot," she explains. If clients are unsure of what they want when they come in, the techs whip out an iPad, pull up the Instagram page and let the clients see what is possible—which, they soon discover, is pretty much anything.
2. Innovation and education is embraced, not avoided. When the gel polish trend exploded a few years ago, Nguyen suggested to her then employer that they learn everything there was to know about this burgeoning service. The salon wasn't interested—so Nguyen left. "Education is super important to me," she says, a priority that her Blossom employees need to have as well. "If I say, 'Are you down to take a class with me,' the answer has to be yes." While some salon owners aspire to expand their space or create a product line, Nguyen's next goal is to start teaching classes, educating students and techs about the basics needed to perfect their craft. In the meantime, she continues her own education. "The most recent class I went to was a Presto Japanese gel art class," she says. "I learned about tie-dying and marbling. It looks easy, but it's not!"
3. Blossom marries fun with function. If Nguyen could have it her way, Blossom would be covered in bling. "But glam is not comfortable," she admits. Instead, there are hints of glitz mixed in with modern neutrals. Granite tabletops at each manicure station create a clean look, while crystal lighting fixtures hang above a row of pedicure thrones. Nguyen researched the decor of other Los Angeles salons while designing her own, and isn't afraid to admit when she borrowed ideas. "I saw these birch posts at a shop in West Hollywood," she says, motioning to the pillars that cordon off the permanent makeup station. "I had to have them. They were shipped in from Maine!"
4. Cleanliness and organization reign supreme. One of the first things Nguyen likes to point out is the absence of any clutter. Custom manicure stations were built with special cubbies to hold individual UV and LED curing lights, and every tool, towel and polish bottle has a designated home. Cleanliness is even more imperative. Buffers and files are never reused; every tech has her own Barbicide jar for disinfecting; and stations are completely wiped down after each appointment. "We're the ones most likely to [contract] something, and I want to protect my girls," says Nguyen. "The clients appreciate it, too." This philosophy extends to the salon's pipeless T4 pedicure thrones, which use individual liners and a magnetic cleaning system to eliminate contamination.
5. Quality is important—but so is quantity. "I don't stick with just one [brand]," explains Nguyen, who is constantly trying out new products. "If I find something bigger and better, I get it—all of it." This may explain why there are more than 1,000 polishes and over 800 gel polishes in Blossom's arsenal. Displayed in towering cases and tucked away discreetly in cabinets, the color options for clients are staggering. This extends to their nail art accessories, too, where everything from Fimo fruit slices to metal spikes to bejeweled bows are on hand, offering nail art lovers an endless array of possibilities. The staff at Blossom also helps clients know what they can and can't pull off. "We're honest with the girls who come in for nail art," Nguyen says, explaining how each client is given a consultation on what shape and style might be best for their nail type. With an inventory that large, there's sure to be something for everyone.
[Images: Blossom Beauty Lounge]