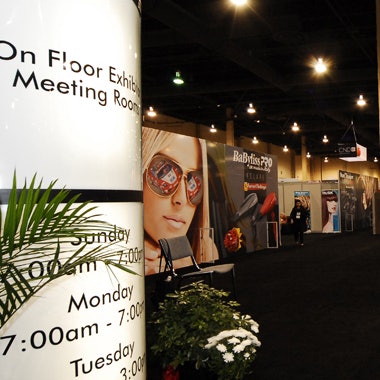 Cosmoprof, at the forefront of latest trends in the beauty industry, decided to team up with the tastemakers from the Fashion Institute of Technology. Cosmoprof North America announced their partnership with the New York school which is the only college in the United States to offer a Bachelor and Master degree dedicated to Marketing Cosmetics and Fragrances. The collaboration may even launch the careers of some talented students from the program.
Students graduating at the top of the 2011 FIT Bachelor degree program will have the opportunity to attend the show as the original Cosmoprof Trend Scouts. This year these exemplary students are Heather Holler, Virginia Peandro, Heidi Rastadt and Bree Zabriskie. Attending as a Trend Scout definitely has its perks. The scouts be given unrestricted access to the show floor where they will be able to talk to exhibitors to find out about new products and show specials.
Daniela Ciocan of SoGeCos Americas and Cosmoprof North America's Marketing Director said, "Our team feels that education is the key to keeping the industry fresh and alive. As such, we are proud to unveil this new initiative that supports new talent coming into our industry. And we are all very excited to work with FIT who natures the beauty's leaders of tomorrow in a uniquely dedicated program focused on the cosmetic market at its core."
Viginia Bongfiglio, chair of the B.S. Marketing Cosmetics and Fragrances program explained, "We share in the excitement at having the students attend one of the largest beauty appointments for the industry happening in Las Vegas and the opportunity for the program to be affiliated with one of the most reputable and respected beauty trade shows in the world."
Want to keep up with the Trend Scouts' discoveries? Luckily, you can be on the pulse of the hottest trends by following Heather, Virginia, Heidi and Bree at Facebook.com/cosmoprofnorthamerica and Twitter @cosmoprofl. The posts will also be shown in real-time at the main entrance to the show floor so that the attendees can stay updated.
Image courtesy of Cosmoprof North America.