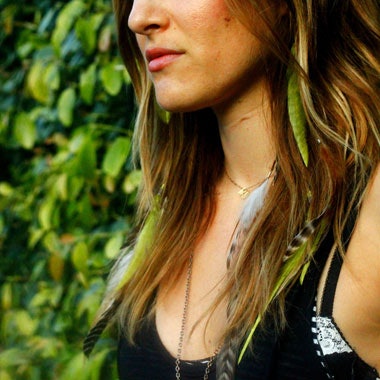 The hottest craze isn't to do with nails, rather our fine-feathered friends. Even those outside of the nail industry know all about the feathered hair extensions that are taking the country by storm this summer. While the trend was started by hairstylists, there's no reason you can't add it to your service menu. It's the perfect add-on for the client who's waiting for her polish to dry or soaking her feet for a pedicure.

There are various types of feathers and techniques for attaching the feathers, but ultimately it's up to you and your creativity.

Simple Solitary Attach one long, thin, brightly-colored feather for clients looking for an understated look. Some prefer to attach the feather at the nape, just behind the ear, so it peeks out subtly. Or you could attach it at the crown so the feather looks like a vibrant highlight. Check out Bling Strands Fancy Feathers for a wide variety of colors.
Flocked Together For your bold clients, consider grouping together a number of feathers for a more intense look. Some companies, such as Fine Featherheads, sell feathers already grouped together.
Trend Transformation Krystal Riddle, hairstylist at Fred Segal Salon in Santa Monica, California, has put her own twist on the feathered technique. She takes small strands of hair, braids them, then attaches a more traditional-looking feather to the end of it. The result is feathers hanging at the ends of the hair for a more bohemian effect. Look for these types of feathers at your local craft stores; you'll be surprised to see what you can find!
Pricing Salons are pricing feathered extensions starting at $8 for a single feather to $45 for five braided versions or one feathered grouping. Of course, this is just a suggestion. Just like any add-on service, prices should be based on your salon and area.

Don't forget that you'll also need hair extension beads. If your salon has a hair component to it, hit up one of your hairstylist coworkers for suggestions on product and purchasing options, or visit your local professional beauty supply store to pick up a pack. You'll also need a latch-hook needle to thread the hair and feather through the bead, as well as pliers to clamp and, later, remove the extension.

Now that you've got all the information, check out our how to video for feather hair extensions, and have fun!