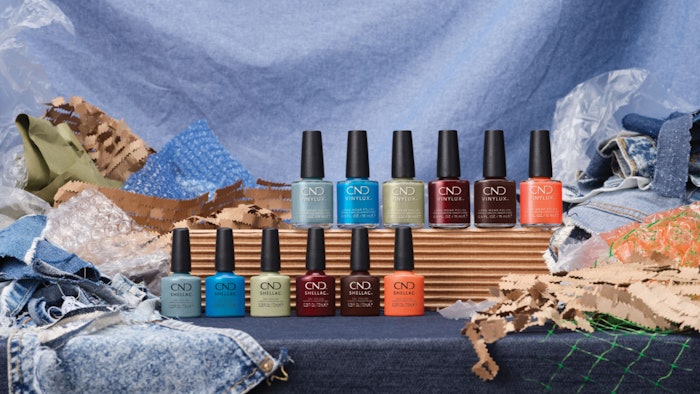 Courtesy of CND
Inspired by frayed edges, speckled textures, and rugged lines to encompass an eco-conscious look, embrace true beauty in imperfection with CND's newest collection: Upcycle Chic. 
The six new shades are nourishing and restorative with a mix of warm, earth tones and cool cleansing pastels.
Available in both CND SHELLAC Brand Gel Polish and CND VINYLUX Long Wear Polish, this palette inspired by upcycled fashion and modern runway trends will offer luxurious fall fix, beautifully complementing the arrival of hot cappuccinos, worn denim and autumn foliage. 
"We are thrilled to unveil these six enchanting shades which not only embody the essence of the season but celebrate the harmony between sustainability and fashion-forward creativity. As we carefully curated this palette, our aim was to ignite a sense of inspiration for personal style, while paying homage to the allure and originality found in the world of upcycled fashion," states Jan Arnold, Co-Founder of CND.
The CND Upcycle Chic collection includes: 
TEAL TEXTILE: Slate blue transformed with a light green shimmer sustains chic style
WHAT'S OLD IS BLUE AGAIN: Azure blue begs to be worn on repeat
RAGS TO STITCHES: Light olive green reinvigorates any wardrobe with its vibrancy
LEATHER GOODS: Deep espresso adds warmth and cozy sophistication to your nails
NEEDLES & RED: Vampy red accented with black stipple effect redefines glamour

SILKY SIENNA:

Pumpkin orange embodies a lavish spirit for the autumn season
The collection is available online at Beyond Polish as well as also available at select salons nationwide.