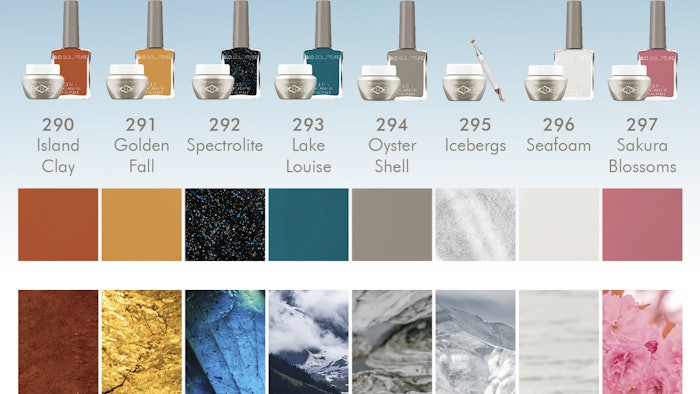 Courtesy of Bio Sculpture
Bio Sculpture has announced the release of its fall/winter 2022 collection, 
Pride of Nature.
The collection was inspired by natural phenomena found in Canada, like Lake Louise and the golden fall carpet of the boreal forest.
Shades in the Pride of Nature Collection include:
Island Clay: a red-brown clay blend with a golden undertone.
Golden Fall: a fashionable mustard with shades of brown, black and red to mimic the winter coat of the boreal forest.
Spectrolite: a shimmering, dark and iridescent color with a black setting to enhance the blue-green shades of spectrolite stone.
Lake Louise: a calm turquoise, reflecting gentle hues of blues and greens that carry peacefulness and tranquility associated with these shades.
Oyster Shell: a distinctive warm gray that stands out with a khaki undertone.
Icebergs: a majestic magnetic silver that reflects a beautiful grey-white shimmer when illuminated.
Seafoam: a soft peachy white color that brings winter shades together.
Sakura Blossoms: a light pink with hints of white and red to lighten up a cold winter's day.