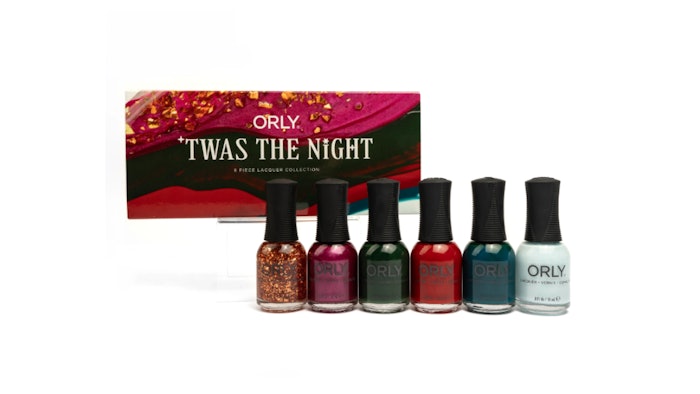 Courtesy of ORLY
ORLY has launched their Holiday 2023 Collection. 
'Twas the Night of the Sugarplum Soirée, where swirling shades danced across the glade. The dark green Regal Pine stood tall while copper Spark lit the ball. Ready to give the holiday season a spin? ORLY's 'Twas the Night Holiday Collection is where it will begin. 
The brand's new collection includes six holiday shades to channel a cozy, classic holiday season: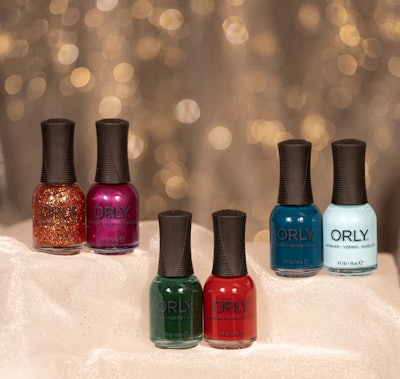 Spark: A copper shatter to light up the night, this metallic confetti makes your winter feel bright.
Sugarplum Soirée: A shimmering wine-red straight from a dream, this candy-like shade sparkles and gleams.
Regal Pine: When the snow and the ice wipe the world clean, this rich dark green créme remains evergreen.
Velvet Ribbon: Pluck up your style with a bold and deep red, you'll love this lush créme and the joy that it spreads.
Cozy Night: Curl up inside and keep warm with a book, this rich dark teal créme will spruce up your look.
Snow Angel: An icy pastel blue in a créme soft as snow, Snow Angel stays cool wherever you go.
The collection is available now on ORLY's website as lacquers and GELFX gel colors.