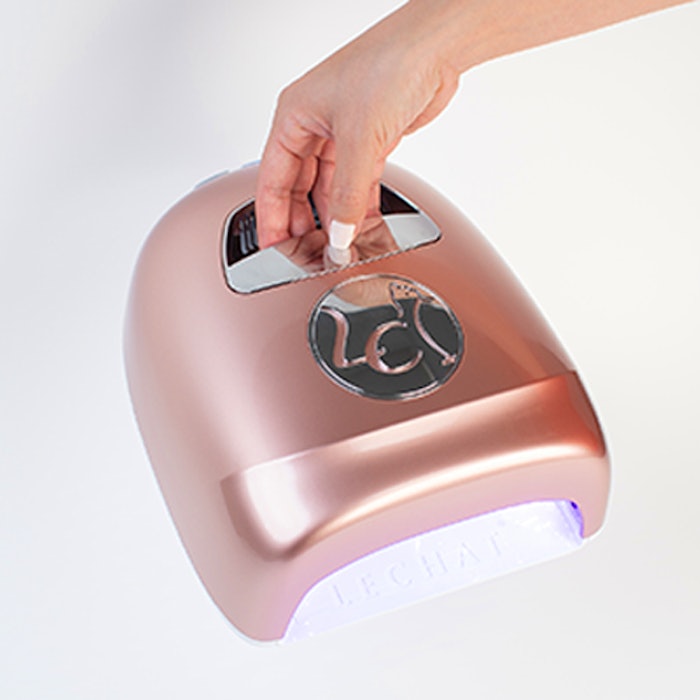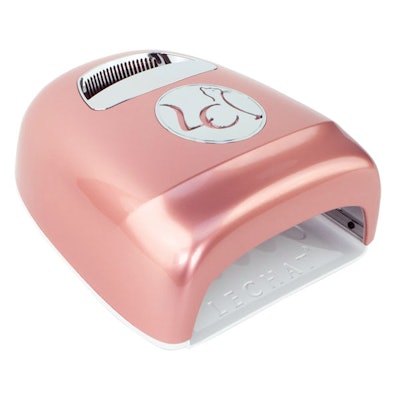 Improved curing technology for today's creative nail professionals.
The new Incure Portable Hybrid Nail Lamp is creating a rose gold colored buzz among nail techs all over. Incure is LeChat's newest model of hybrid UV/LED nail lamp and is LeChat's first fully portable lamp. Available in a brilliant rose gold finish, this portable cordless lamp features 66 strategically placed bulbs a patent-pending, removable, rechargeable battery pack with a USB charging port, and more! Featuring an ergonomically designed hand plate that slides in and out, the lamp is versatile for multiple nail services and makes cleaning a cinch. The cordless design and a removable battery can also be used to charge other lamps and devices via a USB or 12-V port (cord included).
LeChat's Incure Lamp is the first portable nail lamp to offer a portable hybrid 365nm + 400 LED bulbs, a USB charger, patent pending double injection molding technology for added strength, and dimmable glowing lights with three different settings. The Incure Lamp is also the only lamp on the market where you can recharge the battery without plugging in the lamp! Simply remove the battery, swap it with a charged one, and charge the other battery separately. Additionally, the lamp and its components are ETL and CE certified and come with a one-year warranty.
The Incure Portable Hybrid Nail Lamp is available for the low price of only $325. To see more details and order online, visit
www.lechatnails.com/incure
or contact your LeChat distributor. You may also purchase directly by contacting our California office at 1-800-553-2428 or via
info@lechatnails.com
What the Pros Are Saying
"My clients and I absolutely love it! The fact that it's cordless is hands down a game changer and that my clients can charge their phones while we work is amazing," says Merrick Fisher.
"I'm in love with my lamp. As a mobile tech it allows me to not get caught in wires or need to be near outlets. I'm confident the power is always going to cure because of the durability and quality of the construction of the lamp," says Elle. 
[Images and video: Courtesy of LeChat; Instagram]