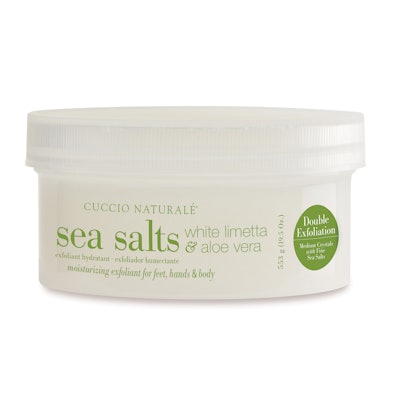 Don't be fooled into thinking that dry winter skin shouldn't be exfoliated because doing so only makes it more dry. That's a common misconception that while on the surface may seem logical, really isn't. It's extremely important to get rid of the flaky, rough patches so that skin stays healthy and is able to accept moisturizers in to do what they do best. That's where Cuccio Naturalé Sea Salt Moisturizing Exfoliant comes in.
Cuccio Naturalé Sea Salt Moisturizing Exfoliant is a double exfoliation hydrating system that starts out with magnesium sulfate crystals that round off to give smoothness to the skin, giving way to the smaller sea salts to finely smooth the skin to perfection.
The newest addition, White Limetta & Aloe Vera, offers a clean scent that is perfect for both men and women when it comes to exfoliating dry and dead skin as we make our way into the winter months. White limetta nourishes, refreshes and moisturizes and the aloe vera is an antioxidant that soothes and hydrates skin.
Gently and effectively eliminate dry winter skin with continued use. Follow up with the White Limetta & Aloe Vera Butter Blend for a more complete winter skin care ritual.
Images: Cuccio