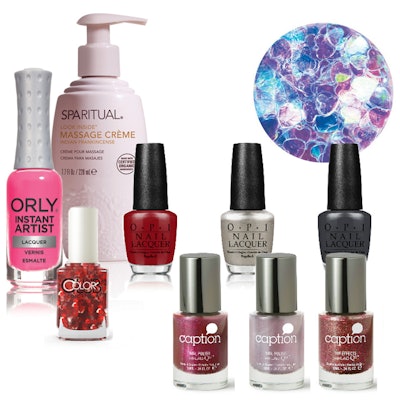 With Valentine's Day just around the corner, your clients will be looking for a little something special to treat themselves. These products ensure that your clients will leave the salon feeling relaxed – and with nail art ready to impress the ones they love. »
SpaRitual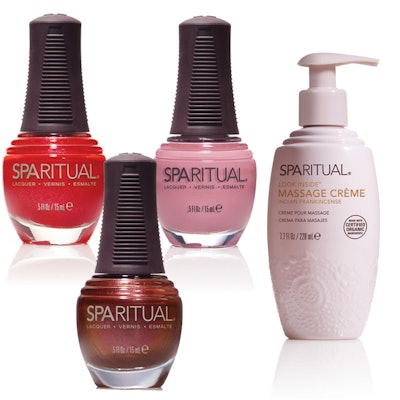 What better gift than a massage on Valentine's Day? SpaRitual's Massage Crème will make sure you're prepared to give your clients a relaxing service.
SpaRitual also has nail lacquers to ensure that your client is entirely ready for Valentine's Day. Using the colors Authentically, Dynamics, and Fall In Love, you can create a festive look that is sure to satisfy.
Caption Nail Polish

Young Nails' Caption Nail Polish has a number of gorgeous polishes for this Valentine's Day. Utilizing their LAC Q3 technology, Caption nail polish is highly-pigmented and self-leveling, so you can get through your appointments faster.
XXOO Kissy Face is a soft, metallic pink.
This is A Must is an iridescent pink necessary for subtle looks.
Can't Help But Smirk is a bright, shimmering magenta that embodies sassiness.
Essentially Single is a fun metallic dark orange for girls that don't want to go with the standard red and pink.
Turn it Up is a classic deep red for all those that want to amp up their love life.
Outta My Mind Top Effect is a shimmering rose glitter that will look great with any other Caption Polish colors or with nude nails.
Young Nails Imagination Art Heart Confetti will add a little extra to any Valentine's Day mani. Try En Love Confetti for an opalescent look, or Platinum Hearts for shining metallic.
OPI
Fifty Shades of Grey by E.L. James was one of the biggest book series of all time. And just in time for the movie adaption by Universal Pictures and Focus Features, OPI has come out with a limited-edition line of polishes inspired by the hit series. Using these polishes, you can create a look sure to thrill and excite.
My Silk Tie is gleaming, silver that will leave anyone wanting more.
Romantically Involved is deep red that demands commitment.
Go dark and mysterious with Dark Side of the Mood.
Shine for Me is a metallic silver with subtle blue sparkle that will make anyone gleam.
Cement the Deal with this stony, cool gray.
Embrace the Gray and pick this stylish and moody gray crème.
Cuccio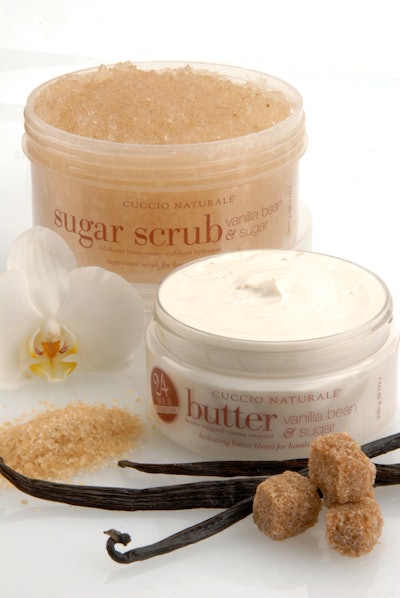 Don't forget about the skin! Show your clients that you've got them covered in all regards by offering them Cuccio Naturalé Vanilla Bean Sugar Scrub and Body Butter. Packed with antioxidants, these will hydrate and revitalize your clients' skin.
Venique
Let your clients know that The Lovely Little Things Mini Kit from Venique would make for the perfect Valentine's Day gift. The kit includes four durable and satiny pastel polishes with a floral scent sure to please your customers.
The Venique Patent Leather Glam Kit provides everything your clients will need for sexy, leather-like shine. The kit also includes Patent Red and Patent Black, plus the Wet Look Top Coat to give your customers a stunning look. Both are available at loxabeauty.com.
CND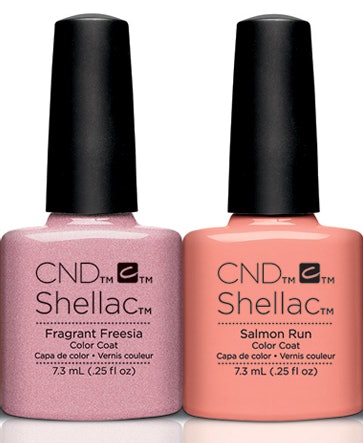 From CND's Flora and Fauna collection come two beautiful shades that are perfect for creating more subdued Valentine's Day nail art.
Fragrant Freesia is a subtle, subdued pink. Reminiscent of flowers, this shade is ideal for floral designs or for the more typical Valentine's Day hearts.
A rich salmon shade, Salmon Run is a fun, but still atypical pink. Use it to create one-of-a-kind nail art this Valentine's Day.
Color Club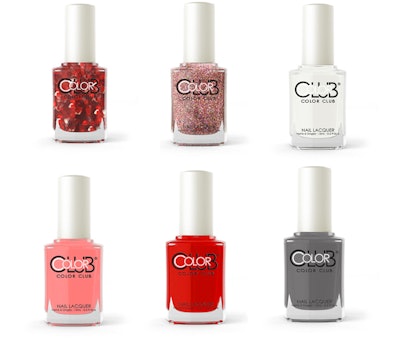 Tahiry Jones is Color Club's Valentine this year, and together they teamed up to produce a line of 7 scented polishes designed to help you create the perfect Valentine's Day nail art.
50 Shades of Love is made up of sparkling red heart glitters and smells of sweet candy, making it the perfect addition to any nail art.
Jitters is a sparkling glitter polish with a light, bubbly scent. Anyone who sees it will get butterflies in their stomach.
On Cloud Nine is a beautiful, white polish that smells like delicious chocolate.
You don't want your clients to catch you without Red Handed this. A bright red that smells of cinnamon, its perfect for bold and edgy nail art.
Seal the deal with Seal It With A Kiss, a pastel pink with a delicious strawberry scent.
Sweet Getaway is a getaway all on its own. Bright pink and smelling like roses, it's a polish that demands to be noticed.
Tall, Dark, and Handsome will evoke thoughts of a heated romance with its cool grey and rich cologne scent.   
EZFlow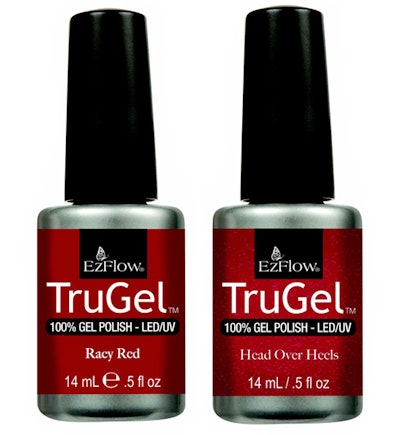 EZFlow has two shades of red that are perfect for creating that one-of-a-kind nail art. Racy and Head Over Heels really embrace the spirit of romance.
EZ Art Stencils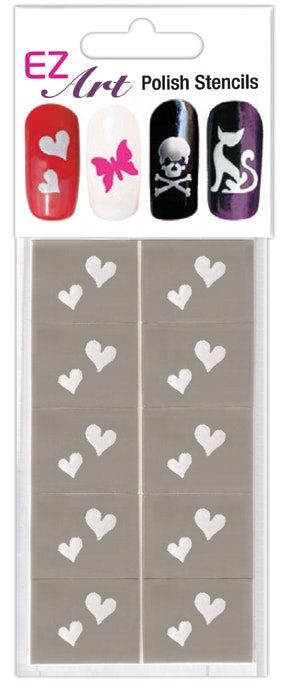 Sometimes it can be hard to create a stunningly symmetrical heart. Make sure all of yours come out perfect by using these heart EZ Art Stencils.
Orly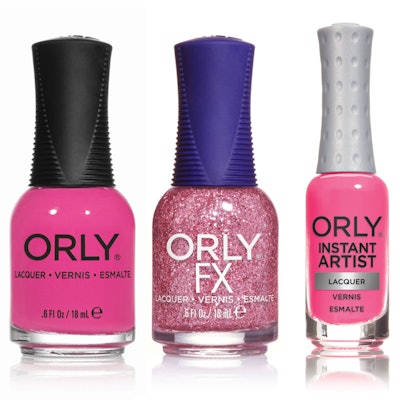 Orly offers nail artists rich, vibrant pinks. Basket Case is a stunning hot pink that's sure to melt hearts, while FX You Are Not Alone provides the perfect accent. Don't forget to grab Instant Artist Hot Pink as it provides a thin striping brush for that intricate detail work.
NSI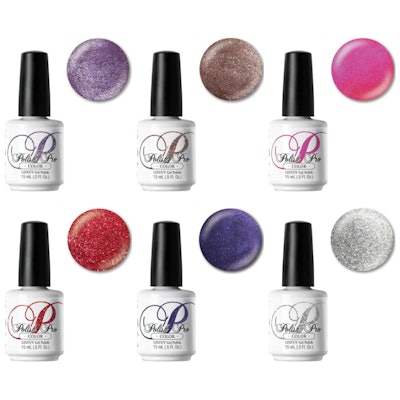 NSI Polish Pro's Sweetheart collection consists of six irresistible colors anyone will love:
Cupid's Arrow is sparkling silver polish that shoots right to the heart, causing all to fall in love with this shade.
Embrace the flirty side with Flirt, a sparkling pink that's sure to leave them wanting more.
The shining red Heart Throb is going to leave everyone crushing on this hot nail polish.
Irresistible is simply that: irresistible! No one will be able to keep away from this gorgeous, sparkling lavender.
A deep, mysterious purple Love Potion is reminiscent of a witch's brew made up to catch Valentines.
Secret Admirer is a warm gold sparkle polish that that makes the wearer the center of attention.
China Glaze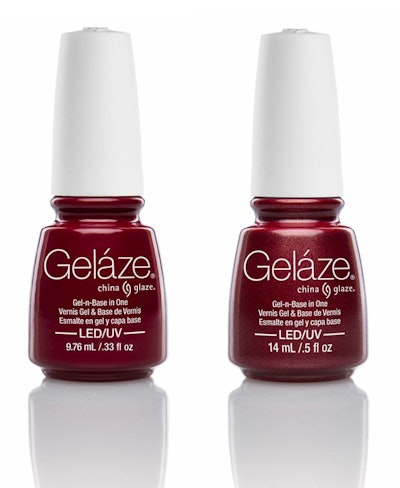 China Glaze Gelaze offers two long-lasting deep burgundy shades: Seduce Me and Long Kiss. Both are great for creating seductive and elegant manicures.
Seduce Me is a rich, solid shade that will win over anyone that sees it.
Long Kiss is a dark, shimmering polish that evokes thoughts of passionate and powerful romance.
IBD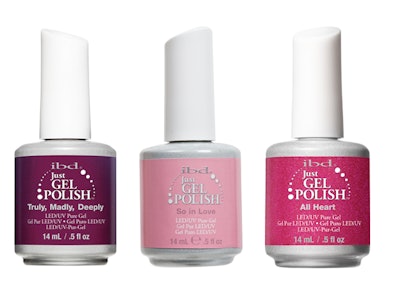 IBD Just Gel Polish has three shades perfect for creating that Valentine's Day masterpiece.
All Heart is a sparkling pink gel polish that shows that you've really put your heart into your work.
So In Love is what your clients will be saying when they see the manis you create with this pretty pastel pink.
Truly, Madly, Deeply is an irresistable deep and elegant wine.
ProGel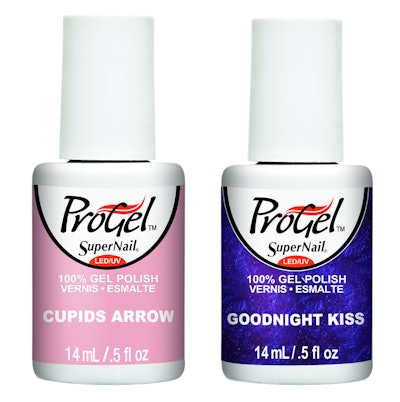 This pair from SuperNail ProGel makes for a wonderful treat:
A light, pretty pink Cupid's Arrow is a great go-to shade for a Valentine's Day manicure.
Goodnight Kiss is a dark and shimmering blue that evokes thoughts of long, romantic nights.
Body Drench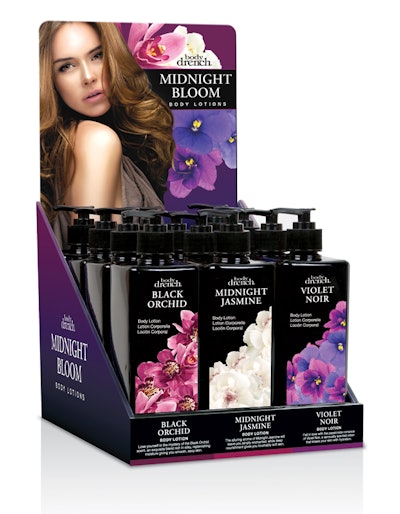 In three rich scents, Body Drench's Midnight Bloom body lotion will make any appointment an enchanting experience. It comes in seductive Black Orchid, Midnight Jasmine and Violet Noir.  
Dermelect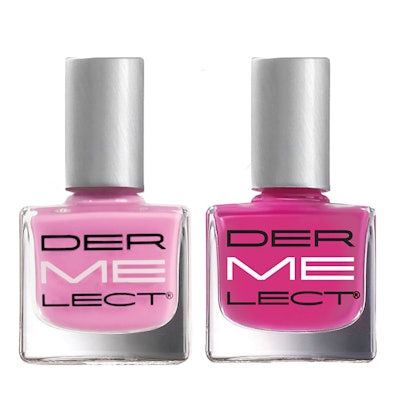 Pink AND peptides! Dermelect offers an impressive range of warm colors, plus their secret ingredient, Keratin Protein Peptide-Hydrolyzed Keratin, strengthens nails and reduces some of the damage involved with painting them frequently.
Pedi-Sox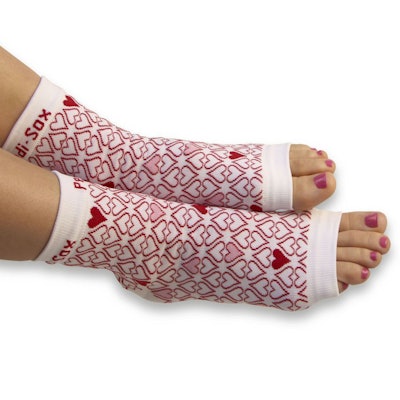 Keep clients' feet warm during pedicures with Pedi-Sox! This heart design is great to upsell to a client before you begin polishing.
Essie Winter Collection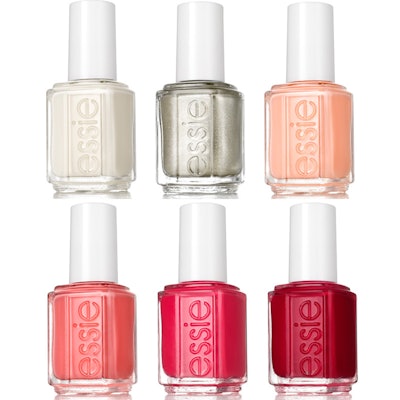 Ranging from white and soft baby pink to a rich berry, the monochromatic Essie Winter Collection will match just about anything, making it a valuable tool in creating Valentine's nail art.
Morgan Taylor Cinderella Duos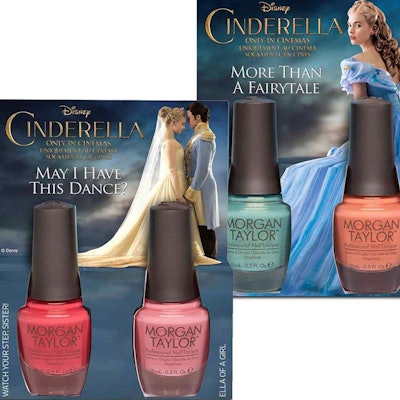 With colors made for a fairy tale romance, the Cinderella Duos from Morgan Taylor make for a great gift item for clients to pick up in your salon, or for you to use yourself. Each pack comes with two colors, such as:
The frosty periwinkle Best Ball Gown Ever, guarenteed to make every girl feel like a princess. It's a great accent to any color.
Ella of a Girl is a bold pink crème that's fun and feminine.
If The Slipper Fits is a sparkling blue-silver glitter that is utterly magical.
The gorgeous peach of My Carriage Awaits will whisk everyone away to a fairy tale fantasy.
A turquiose polish with a subtle gold shimmer, Party at the Palace is made for a night at the ball.
The vibrant, hot pink of Watch Your Step, Sister is not a color easily forgotten.