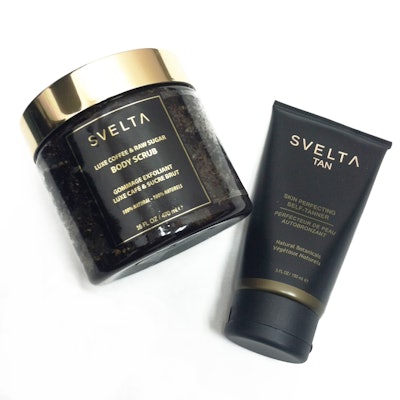 It's winter again – which means your clients are coming in for tans. And before any great tan, it's essential they exfoliate skin to get rid of any dead skin that would leave the color uneven. Recommend your clients try out Svelta Luxe Coffee & Raw Sugar Body Scrub before they come in for their tanning appointment – and make sure to have it available for retail in your salon.
The Body Scrub includes key ingredients like almond oil, cardamom seed oil, coffee, olive oil, and organic raw sugar – which nourish skin and exfoliate it at the same time. Plus, it's the perfect way to warm up a winter day – it smells like espresso mixed with gingerbread.
They can also touch up their tan between visits with Svelta's Skin-Perfecting Self Tanner, which is filled with natural products you might find in your backyard, like aloe vera, camu-camu (a fruit filled with anti-oxidants), green tea leaf extract, guarana (contains caffeine to boost circulation), poppy seed extract (smooth skin), sacred lotus (tones and hydrates), and sweet almond oil.