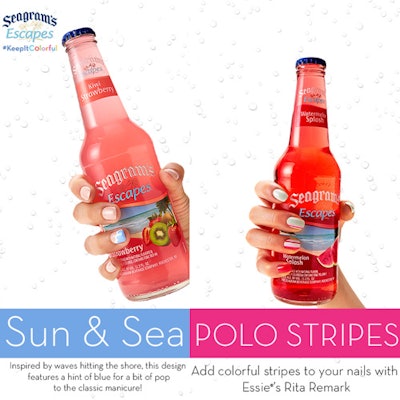 There are very few combinations better than a freshly painted manicure and a summery cocktail. That's exactly why Seagram's Escapes partnered up with Essie lead nail designer Rita Remark for their Keep It Colorful campaign to create bright, fruity nail art that would showcase the best of both products.
Click through to check out each of the two nail designs and matching drinks! »
Look #1: The Polo Stripe
Rita says: "This design was inspired by the stripes of a classic polo t-shirt. Taking a cue from Seagram's Escape's Watermelon Splash, this manicure features the refreshing colors of a summer watermelon."
You will need a striping brush, base and top coat and Essie Absolutely Shore, Bachelorette Bash and French Affair.
Pairs well with: Watermelon Mimosa, the new and improved brunch cocktail. Combine 6 oz. Seagram's Escapes Watermelon Splash, 3 oz. sparkling rose and ½ oz. lime juice in a glass with ice. Stir well. Strain and serve in chilled champagne glass.
Look #2:  Sun & Sea
Rita says: "Though the runway may have seen plenty of nude nails for summer, this look provides a great way to dress up an otherwise clean and simple manicure and turn it into something fun for the beach."
You will need base and top coat and Essie Topless & Barefoot, Blanc and Bikini so Teeny.
Pairs well with: Sweet Revenge. While not overly sweet, the strawberry liqueur packs just the right amount of punch, making it the perfect mixer for Seagram's Escapes. Combine 6 oPz. Seagram's Escapes Kiwi Strawberry, 1 oz. strawberry liqueur and ½ oz. lime juice in a glass with ice. Stir well. Serve in cold martini glass.
Find more Seagram's Escapes cocktail recipes at: http://www.seagramsescapes.com/recipes.
Note: Yes, Seagram's Escapes do contain alcohol. Drink responsibly, but also polish responsibly.
[Images: Essie, Seagram's Escapes]