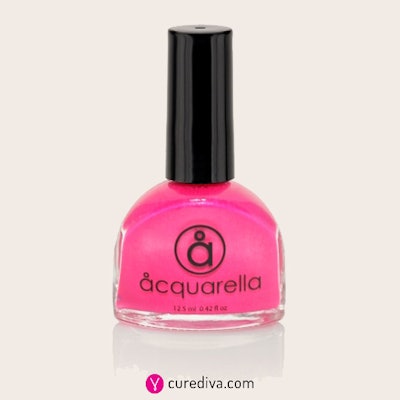 Punchy neons and classic nudes have been big hits for manicures on and off the runways this year. For the fashionable women of the world who have been diagnosed with cancer and are undergoing chemotherapy treatment, the simple task of applying polish can be a feat. Oftentimes the chemical smells of polish are enough to make them feel sick. Acquarella from CureDiva.com provides a perfect (and pretty!) solution.
With Acquarella, patients undergoing chemo can have beautiful nails without the dreadful smell of chemicals, since it's completely water-based and non-toxic. Easy preparation, no base or top coats, and fast drying power makes application a snap! The unique Acquarella Nail Polish and Conditioner System is completely free of Dibutyl Phthalate (DBP) or other phthalates, Formaldehyde or Formaldehyde-like derivates, Toluene, Ketones or petrochemical solvents. As a bonus, it also hydrates the nail, helping to prevent chipping, peeling, and yellowing. From electric neon shades to classic nudes, Acquarella from CureDiva.com has the shades you're looking for.
About CureDiva:
CureDiva is the first ever high-tech community and shopping site for women's breast cancer lifestyle needs. It's so hard to know and difficult to find what you need during each stage of breast cancer, and CureDiva offers all of these answers and products in one place, together with full community support. CureDiva helps women feel like "Divas" before, during and after treatment. Founded by Breast cancer survivors Efrat Roman and Tovi Rigler together with Ester Gofer and two of the Born Free BPA free baby bottle founders Dan Vigor and Gil Lemel, CureDiva is the solution for women nationwide in all phases of breast cancer. Visit www.CureDiva.com for more information.
[Image: CureDiva.com]