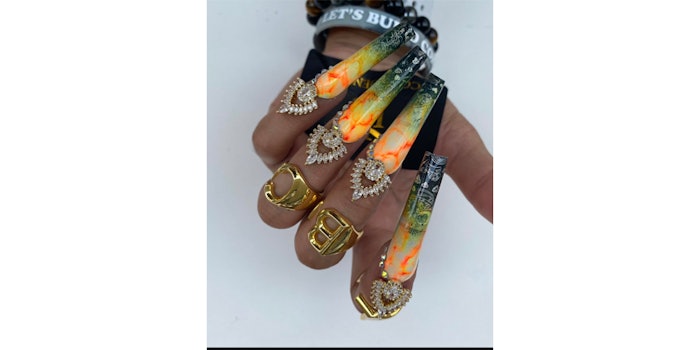 Courtesy of Lorenz Medina
This co-hosted event is set to bring the best salon techniques, business advice, trends, product information and networking to beauty professionals.
Lorenz Medina, celebrity nail artist and mentor, is scheduled to present at the virtual event.
Medina will teach attendees how to make a seamless blend while saving time and maximizing income with an easy-to-use airbrushing machine. He will also teach marbling techniques to create ripples, swirls and more.
Medina shares his top five tools to use for marble nail art:
3D brush—"For marble ink."
Plastic bag—"In combination with a builder gel."
Detail brush—"The fine points make the cracks and lines look much more detailed."
Blooming gel/airbrush returns—"Blooming gel/airbrush returns spread the gel polish. Quick to [create] trendy designs for those who do not have much time."
Transfer foils—"The fastest way to create a marble set. There are hundreds or even thousands of patterns that you can choose from."
Pre-register for the digital event now so you do not miss Medina's session or any of our other education.