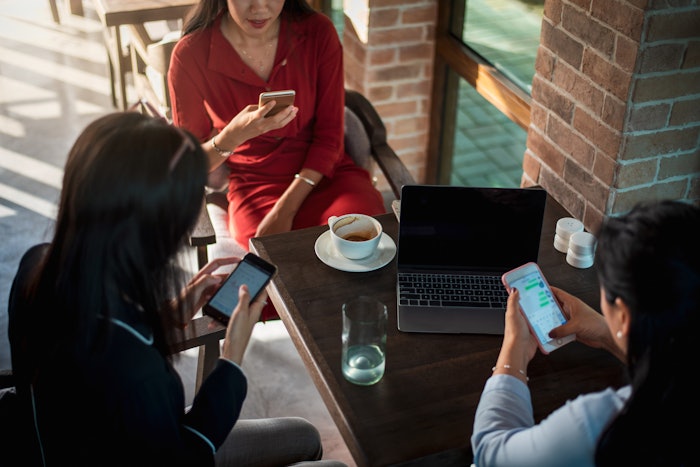 Networking is one of the most effective ways to learn about and grow a business for nail technicians. It's the exchange of information and ideas among people with a common profession or a common special interest. It can be in an informal social setting, a structured and developed network with members or it can be in groups online with common goals. It's about interacting and engaging with others for mutual benefit. It can help establish a new business or grow an existing one. It's directly interacting, often face to face but it can also be done online, with others in a similar field.
Successful nail technicians participate in networking to support their business, gain information and techniques from other like-minded nail technicians or create contacts with people who might benefit their business. Most of us participate in networking, even if we aren't aware of it. For example, it can be standing in the aisle of a trade show talking to another technician, sharing experiences and other information. This is networking. Another example is going online to join a specific group of nail technicians interested in a particular topic, for example, the ANT-Advanced Nail Technician group that is restricted to graduates of Nailcare Academy programs.
"We regularly discuss topics specifically relevant to the Academy programs, so we restrict entrance in order to allow participants to easily understand the topics," says Karen Hodges, co-owner of Nailcare Academy in Fort Meyers, Florida.
Networking and Nail Technicians
Networking is relatively new to the nail industry. The first real networking group for our industry was introduced in 1995 by Debbie Doerlamm with her online BeautyTech forum. Nail professionals signed up and contributed through online discussions about skills and issues in the beauty industry. BeautyTech was the primary source of online networking for the nail industry before Facebook and other digital communities developed interest groups and networks. Forums no longer exist, but they were very similar to closed groups on Facebook. (A person entering a closed group must apply to enter and give some proof that they are of common interest to the current members.)
You didn't find many nail technicians actively seeking to network with other nail professionals until Doerlamm developed the BeautyTech list; it's been said that it was because nail pros did not want to aid their competition in their success. But through social engagement, that active competition among nail technicians began to wane, and they realized how beneficial networking can be. Before long, in-person networking groups began to organize, structured as small conferences over a series of days, and many are still active now, bringing local and distant participants together to learn and grow. Examples include Nail Camp East (Georgia), Nail Camp West (Idaho) and The Nail Tech Event of the Smokies in Gatlinburg, Tennessee. Nail technicians enjoy these networking get-togethers because of the small size (in comparison to the large industry trade shows) and the ability to really learn and connect.
Today, new networking events are popping up regularly, specifically those tied to a specialty, for example, CAUSE for Feet. Sponsored by Footlogix and Nailcare Academy, the promoters know foot care and are therefore in a unique position to offer specialty education to participants.
"This yearly conference focuses on advanced foot care, with physician and industry experts providing skill and business information to pedicure-specialty nail technicians," says Katharin von Gavel, president of Footlogix.
These intense educational opportunities provide focused learning as well as a network of likeminded nail technicians who can turn to each other post-conference. Other specialty networking events include topics such as nail art and oncology.
Successful Networking
The ability to network is one of the most crucial skills anyone in business can develop because it brings in the clients and contacts necessary to grow your business. But many people shiver when thinking about networking, worrying that it requires putting on an act or to "schmooze" with people who they have nothing in common. That is far from the reality of networking. It only requires interacting sincerely with those around you in a network setting. Friendliness, of course, is a requirement. The first step is to find a group who enjoy the same things as you do—and off you go to networking success!
Create a Networking Plan
To make the most of networking, start with a structured plan for getting to know people who will do business with you or can introduce you to other important contacts. Here, we provide you with some tips to support you in being successful in networking while enjoying the task at the same time.
1. Get your "tools" ready and have them with you when you attend a networking event. Your business cards, brochures, anything that people can take with them to remember you in the future. Also, remember to collect cards and brochures from the people you talk to there. Make notes on them about your conversation as soon as you can to keep the person in mind. You might want to send a short post to them when you get back to home.
2. Attend functions that fit well with your goals and customers. Most local business groups will allow you to attend without joining, so try out several groups and then determine the one(s) that are the best fit for your needs. Also, look for larger industry events that will benefit your business. If you can only afford one event a year, check around with those who attend different ones until you find the one you want to attend. Industry functions should be chosen by what is there for your benefit, including businesses you wish to speak to and persons you may want to meet. Write down their names, and then go on the hunt.
3. Don't sit down until you have to at meetings and classes. Mingle and get to know as many people as possible for you to genuinely talk about topics you have in common. Talking about family and kids is a way to break the ice, but don't stay on that topic too long. Remember, you're there to talk business!
4. Try to talk with strangers when you can. Don't always sit with your BFFs at networking events. You're there to get to know others and gain contacts, help others and allow them to help you towards success. Restricting your communications to people you already know kills those opportunities.
5. Be friendly and easy to approach. Be available and willing to bring out the best in others. In return, they'll do the same for you.
6. Think about what you'd like to accomplish before you get there. Networking costs time and money, so make the most of your time by planning what you will do there and what you'd like to accomplish. Networking events are fun, but your priority should be accomplishing what you want while attending, otherwise your time and money will be poorly spent.
7. Remember that networking can be done anywhere: local business group, social group, at a bar with friends, an online group, even church. If you learn to enjoy networking, you'll soon become the life of the party wherever you are, and your business will benefit from your interactions.
Networking is a valuable asset to your business, whether you're an employee or owner. It supports growth in clientele and in overall skills. If you set your mind to it, you may even learn to enjoy it, and everywhere you go will become a networking event!
Janet McCormick is an author, consultant, salon owner, spa director and educator. She has written for the Milady Standard Nail Technology handbook for the manicuring and pedicuring chapters. She is also the cofounder of both Salon Gurus and Nailcare Academy .