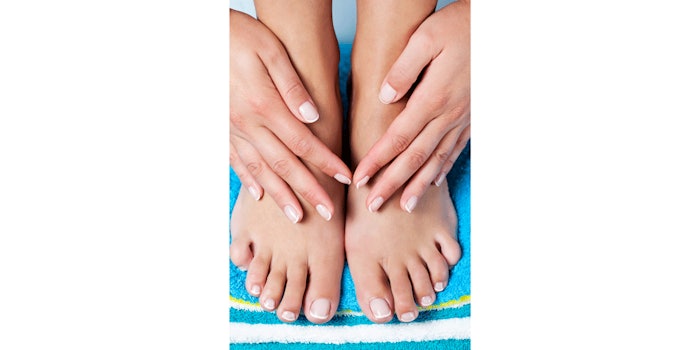 The '80s and '90s are back! Think Goldie Hawn in Overboard and Studio 54 with the glam scene, complete with Halston and his girls: Cher, Liza Minnelli, Raquel Welch and Bianca Jagger. They all wore his clothes and sported long, square dramatic nails in either red, brown or FRENCH. 
The French comeback brings in some welcomed upgrades. The original invention back in the '80s featured one shade of bright white and one shade of "neutral," which was not so neutral on all skin tones. We now have every shade of white from soft to dramatic and the most luxurious creamy neutrals in every skin tone. Today, the idea is to MATCH the base to your unique skin tone (for an elongating illusion), to drop the smile line (the line between the neutral and the white) and elongate the look of the nail bed, pushing length to exaggerate a slim, sleek and sexy silhouette to sharpen up the square shape in a bold, highly pigmented cream.  
The new and improved version of the French mani is possible because of new technology and the elevation of gels, gel paint and gel polish. New tools and products support ease of application and push wear to the next level of three-plus weeks without yellowing or breaking down. A stark white tip must stay that way to look fresh and vibrant—yellowing or staining is a serious violation!
Finding the best French combination for every client is based on skin tone and the client's end goal. You can push the drama and stay true to the original concept with a full coverage white cream. Find one that is bold, clean and nonyellowing and offers solid coverage. Then the full coverage creamy neutral must match the client's skin tone exactly. This is where pro color analysis and advice are golden. 
Shape and length matter in interpreting this trend for your clients as well. The look was watered down in the '90s and went short and square, making it more masculine than sleek and femme. Placing the smile line too low, especially on a short finger or toenail, can foreshorten the look of the digit. Our goal today is the opposite. 
Embrace the revolution, and GO FRENCH all the way with updated products, a modern shape and customized colors! 
About the Author
Jan Arnold is the co-founder and style director of CND. She is also a member of NAILPRO's 2021 advisory board.