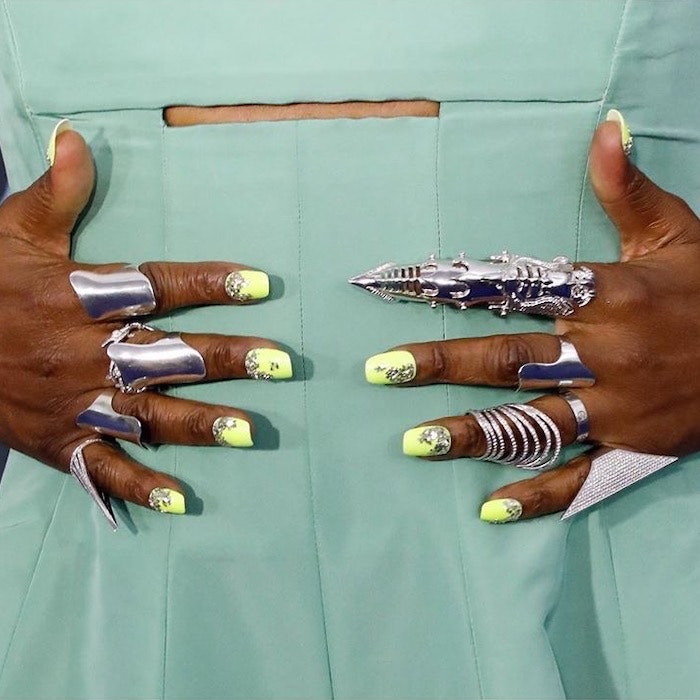 Billy Porter wore a neon manicure to stand out against his custom Hogan McLaughlin celadon and two-tone silk faille jumpsuit at the Critics' Choice Awards, courtesy of celebrity manicurist and CND education ambassador Vanessa McCullough.
RELATED: Best of Golden Globes Celebrity Manicures
 

View this post on Instagram

 
Inspired by David Bowie's signature style, the nail look featured an eye-catching neon hue, topped with broken mirrored glass.
RELATED: New Year, New Instagram Nail Trends
"Friday night, I received a call informing me that Billy needed nails for his amazing pant suit," McCullough wrote on her Instagram. "Four hours later I made this fun set that I call SHATTERED. Billy has shattered every stereotype, and I wanted to create a set that represented him. The bright neon represents his boldness, and the broken mirrored glass represents the stereotypes. This man is everything!"
 

View this post on Instagram

 
Recreate the Look
Step 1
Prep the nail. Apply two coat of CND Shellac Cream Puff.
Step 2
Dust the nail with neon pigment powder.
Step 3
Apply one coat of DuraForce Top Coat. Then, finish the look by adding mirrored glass fragments for dimension. Cure.
—by Angelina Lewis