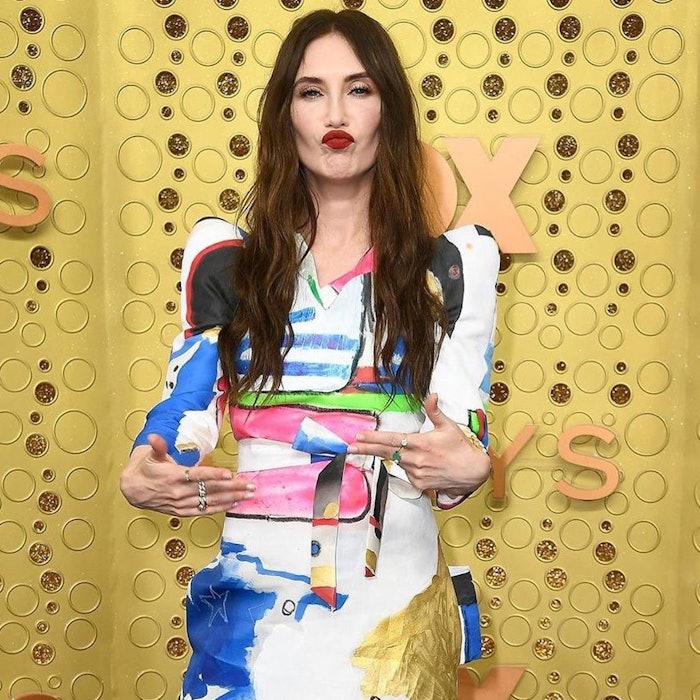 Frenchies Nails artists Kayla Bramlet and Desiree Abhiram created nail looks for Emmy nominees and presenters Laura Linney, Patricia Clarkson, Anna Chlumsky, Regina King, Carice van Houten and Emily Hampshire. While nudes are still an evergreen trend, fall palettes and jewel tones made their red-carpet debut.
RELATED: Fall Fashion Inspires 3 Nail Looks in Pantone Colors
 

View this post on Instagram

 
Bramlet created Linney's nail look using Dolce & Gabbana Anise 715. "The blue-grey polish paired well with Linney's dress," says Bramlet. "Its classic, rich color cast a beautiful sheen on the red carpet."
 

View this post on Instagram

 
Clarkson wore crowd-favorite Essie in Mademoiselle polished by Abhiram. "We wanted her bold dress to stand out, so we opted for Essie's Mademoiselle," says Abhiram. "The classic lacquer shade also complimented Clarkson's grace and beauty."
 

View this post on Instagram

 
Anna Chlumsky strutted the red carpet in CND's Bellini courtesy of Bramlet. "The beautiful jewel and ocean tones of the dress inspired me to opt for a color reminiscent of the beach," says Bramlet. "CND Bellini brought out the metallic color in her dress, pairing perfectly."
 

View this post on Instagram

 
Abhiram opted for Essie in Jamaica Me Crazy when tending to Regina King's hands. "We wanted to compliment her beautiful gown, gorgeous skin and flawless makeup with a jewel-toned shade that would pop without taking away from the rest of her ensemble," says Abhiram.
 

View this post on Instagram

 
Bramlet chose CND in Grapefruit Sparkle when creating the nail look for Game of Thrones actress Carice van Houten. "Carice's colorful hand-painted dress called for a bit more neutral nail look," says Bramlet. "CND Grapefruit Sparkle accented the dress, rather than competed with it."
 

View this post on Instagram

 
Essie in Wicked did the trick for Emily Hampshire. Abhiram worked with Hampshire's stylist, who envisioned a strong look for her red-carpet look. "We found the perfect shade of deep purple to match her vision and finish her look," says Abhiram.
—by Angelina Lewis
[Images: Courtesy Instagram]