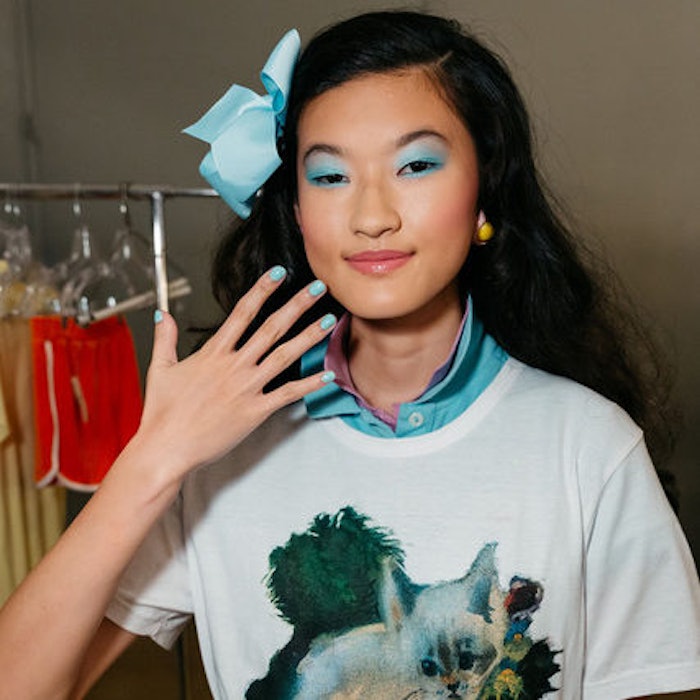 OPI partnered with top manicurist Miss Pop to create the nail look for Rodarte's new limited edition capsule collection, which debuted last night in Hollywood at Milk Studios.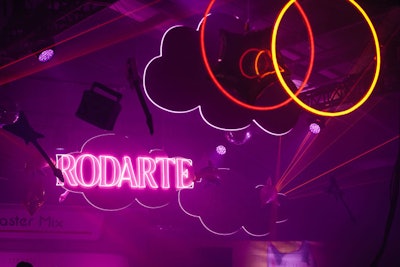 Complete with a colorful, '80s roller rink theme, models on skates and a special performance by Susanna Hoffs of The Bangles. The collection featured artwork by Mari Eastman, displaying a variety of watercolor moths and kittens.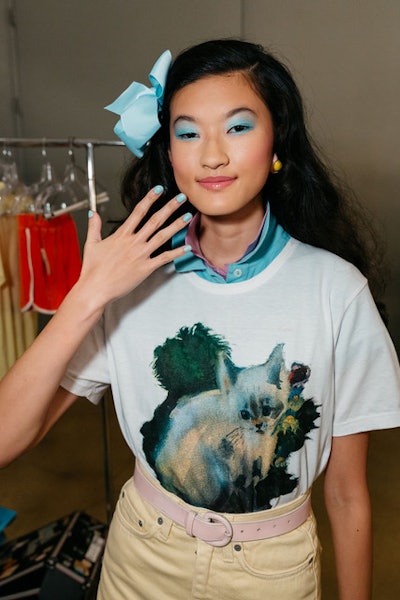 "Disco lights at the roller skating rink inspired the glitter ombré look for the show," says Miss Pop. "With the dim lights, the splash of light and color sets the mood to strut, speed, shimmy and showboat. So, OPI brought that attitude to the nails—nothing says 'go for it!' quite like glitter does."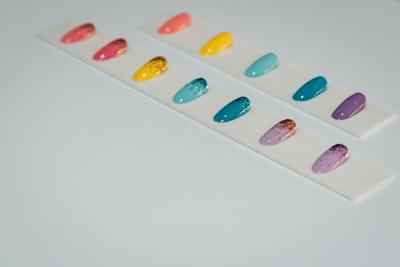 The OPI nail team mixed shades of custom glitter with top coat for high shine. Miss Pop applied OPI Natural Nail Base Coat to prep the nails before applying featured colors: Lima Tell You About This Color, I Just Can't Cope-acabana, Gelato On My Mind, Can't Find My Czechbook, Do You Lilac It, Polly Want a Lacquer? and Two Timing the Zones.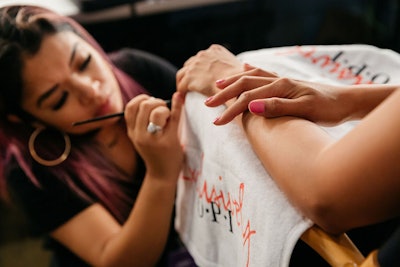 How-To: Create OPI Custom Glitter
Step 1
Source a half-full bottle of OPI Top Coat. Cut a strip of paper into a rectangular 3″ x 5″.
Step 2
Roll the paper into a cone. Fit the small opening into the neck of the top coat bottle. Pour the glitter of your choice into the cone funnel to fill the bottle.
Step 3
Shake your bottle, and viola!—custom glitter polish.
Get the Runway Look
Step 1
Apply one coat of OPI Natural Nail Base Coat.
Step 2
Apply two coats of your preferred OPI pastel like Gelato On My Mind or Polly Want A Lacquer?
Step 3
Start at the base of the nail, and apply your custom glitter near the cuticle. Stack it so that the glitter completely covers the rim of the nail.
Step 4
Pick up more glitter polish with your brush and fade the product towards the free edge. The ombré design should cover three-fourths of the nail.
Step 6
Seal your Rodarte mani with one coat of the OPI Top Coat for a high-shine finish and long wear.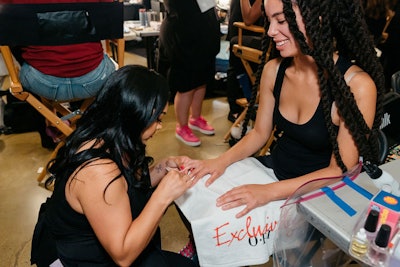 "It is such a a pleasure to collaborate with the gorgeous rainbow of OPI and the visionary sisters Kate and Laura Mulleavy of Rodarte," says Miss Pop. "Rodarte is known for their romantic and magical collections. This take on this season's streetwear transports us to the fun and fabulous scene of the 80s roller discos."
—by Angelina Lewis
[Images: Courtesy of OPI]