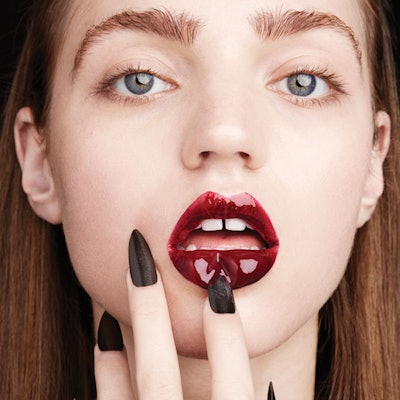 There are few working nail artists whose careers are as storied as Marian Newman's. Over the last couple of decades, the "Queen of Nails" has racked up credits for more than 50 British Vogue covers and 10 years' worth of Dior advertising campaigns; created nail looks for countless Vivienne Westwood, Louis Vuitton and Givenchy runway shows; and served as the visionary behind Lady Gaga's nails in several music videos. In addition, Newman has designed a range of nail products for MAC and is a creative brand ambassador for CND. She shares her wealth of knowledge in her role as the lead curator of Nails: Mastered, a global educational program, as well as the textbook The Complete Nail Technician.
Now, Newman reveals the tales and techniques—from dry-brushing to decoupage— behind some of her most iconic nail designs in her new book, Nailed It: Nail Fashion Technique (Laurence King, 2019). Featuring stunning photography and technical how-tos, it's a must-have for all nail artists and fashion lovers.
VIDEO: NAILPRO's Creating the May 2019 Cover with Entity Beauty
What inspired you to write Nailed It?
"I've had a 30-plus year career, and I've seen so much and experienced things that many can only dream of. I wanted to show that anything is possible if you want it enough. I lived through some of the glory days in fashion that will never be seen again. We loved it, we lived it, and I'm so thankful I had the opportunity. I wanted to share just how fabulous 'just doing nails' can be."
How did you get your start in the nail industry?
"It wasn't by design; it was more by accident. I have a science background and was planning to go back to that when my children were older. In the meantime, I took a course in makeup, and that led to a project researching the professional nail industry. Then, I saw an opening in the beauty/service industry that prompted me to open a nails-only salon with a business partner. Many thought we were mad, as it was in the 1980s, but it worked! The salon actually still exists, but it has nothing to do with me anymore."
RELATED: Neon Nail Art Lit Up Coachella Valley Brighter Than the Sun
What challenges have you faced throughout your career?
"So many! Understanding the theory of nails and nail products. Fighting for decent education that was recognized by the beauty industry (who mostly hated nails). Then into the media and fashion industries—for so many years I was asked the same question: 'You just do nails?' Letting the fact that nails are the poor relation in fashion wash over my head and not take it personally. So many things, but I obviously have a pretty thick skin!"
Do you have a favorite nail art look that you've created?
"I loved creating the weirdness for Lady Gaga. I'm not into pretty nail art; I'm much happier on the 'dark side' and working out ways of creating stuff quickly. I think that all comes down to understanding the science bit."
What are your most memorable experiences?
"Oh my! Where to start? Spending 10 years working with John Galliano on every Dior campaign. In those days, videos were taken of the shows. We were always with John directly after the shows, and a highlight was always the 'show reel' of Dior and Galliano arriving at the studio. We would sit around and watch the backstage stories coming thick and fast from John and his stylist Stephen Robinson. Another memorable experience was watching Alexander McQueen sitting in a corner, sewing.
Then, seeing him jump for joy when shooting the campaign and show backdrop film for his very last collection, Plato's Atlantis, with all the snakes. And of course, surviving 104-degree heat in a cornfield with Lady Gaga in Omaha, Nebraska, and discovering the value of Gatorade!"
What's the value of continuing education?
"That's without value; it's everything! Technology, social media, ideas and trends are changing almost daily; keep up with everything, especially your craft. No one knows everything. Learn something new every day. Seek out the light bulb moments. Be a specialist and an expert in your chosen field. Nothing will fall into your lap. Go out and find it."
Do you have any advice for novice nail pros who hope to launch a career as an editorial nail artist?
"The world has changed now. The internet and the advent of influencers has made the job that I've done so much harder. But, the cream will rise to the top. Make sure you're the best you can be. Be humble, be nice, work hard, realize that it's not all about you and be a team player. Find your own brand and approach, and stick to it. Be an influencer, not an imitator."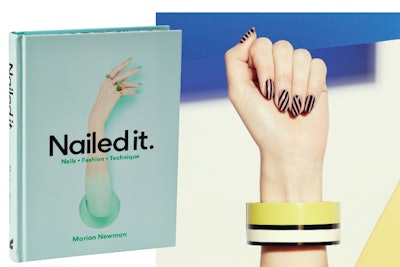 –by Lotus Abrams
This story first appeared in the May issue of Nailpro magazine. To receive the magazine, click here to subscribe.
[Images: Courtesy of Marian Newman; Aleksandra Kingo; David Ralph and Armando Sanchez]