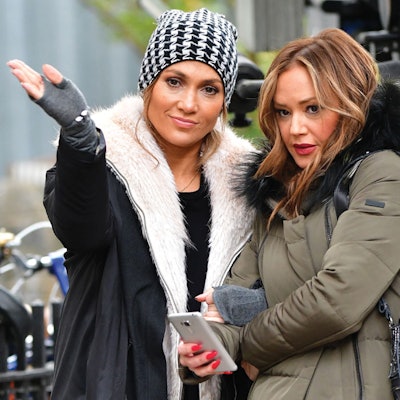 In the film Second Act, 40-year-old Maya, played by Jennifer Lopez, gets a second chance at career success that takes her from Queens, New York, store clerk to high-powered Manhattan businesswoman. During the process, Maya's image gets a revamp, too—right down to her nails—thanks to the talents of celebrity manicurist Elle, who has worked with Lopez for 20 years and even played her manicurist in the film Maid in Manhattan. "She went from one character to another, so we had to mature her look," says Elle. The duo settled on an ombré pink-and-white manicure for the earlier scenes of the film, shifting to a sophisticated nude set for her later office scenes.
VIDEO: The Making of NAILPRO's Creating the February 2019 Cover
Scenes are typically shot out of order, which always makes maintaining the continuity of nail looks a challenge. Adding to the complexity, while filming Second Act, Lopez was simultaneously shooting the TV show "Shades of Blue," which required yet another nail look. To make it all manageable, Elle kept Lopez's nail length consistent throughout and relied on Akzéntz Pro-Formance hard gel to enable quick nail changes. "I would get her into her Harlee character for 'Shades of Blue' using Akzéntz pink hard gel by itself, and then sponge LeChat Dare to Wear Flawless White polish on when I needed to create the ombré for Second Act," says Elle. "Then, I would paint over it all with nude Latte lacquer from the Jennifer Lopez Inglot Cosmetics collection for the office scenes so it wouldn't affect the gel underneath."
Elle also worked with Leah Rimini on Second Act. "She loves a stiletto—the pointier the better," says Elle, who topped the actress's acrylic set, created using CND Retention+, with OPI GelColor in Big Apple Red and then applied Orly GelFX Rage mixed with rose gold glitter to the undersides of the nails. "She always has a Louboutin effect on her nails in some way because she doesn't like the underside undone."
RELATED: Team Voesh and Naomi Yasuda Created NYFW Nail Looks
Despite being privy to all of the behind-the-scenes action when working on set, Elle says that she doesn't want to know how the plots unfold before the films are released. "Even when Jennifer was rehearsing lines, I would say, "Please, let me finish and get out of here," Elle says. "I try to tune it out so when the movie comes out, I feel like I get the element of surprise. I'm not a spoiler!"
–by Lotus Abrams
This story first appeared in the February issue of Nailpro magazine. To receive the magazine, click here to subscribe.
[Images: Getty Images]