We've rounded up a handful of the most stunning, red-carpet ready nail looks using LeChat, Essie, Essie Couture and OPI polishes by top celebrity manicurists.
View this post on Instagram
Celebrity manicurist Elle created created nominees Debra Messing and Rachel Weisz LeChat nail looks. "Debra wore an ombre sequin dress, so went with a manicure that would not blend in completely. The idea was to have her nails look like sequins and really pop," says Elle. "My signature application is applying two different shades (LeChat Dare to Wear Knights Honor, a gunmetal frost, and Spectra Stellar Stars, a silver holographic glitter) to create a perfect blend that's not flat or one dimensional. Her nails dried for 1.5 hours before honoring her jewelry by applying a real Vero Krew natural diamond to each ring finger. We selected a Round Diamond ($150 each) to match the round sequins on the dress and round diamonds on her jewelry."
"Weisz wore a black and white dress, so we wanted to do a mannequin hand and elongate with a nude nail," says Elle. The celebrity manicurist followed LeChat Dare to Wear Cocoa Kisses with one coat of Innocence.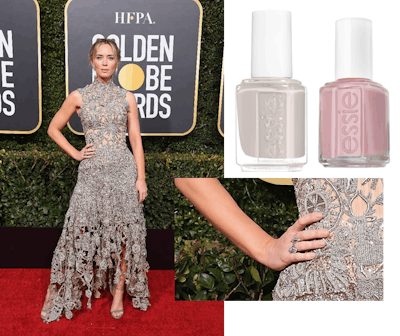 Emily Blunt wore Essie Sugar Daddy from newly-released mind-full meditation collection. Celebrity manicurist Jenna Hipp says, "Emily wanted a manicure with both color and coverage yet wasn't too pink or nude to pair with her custom Alexander McQueen dress."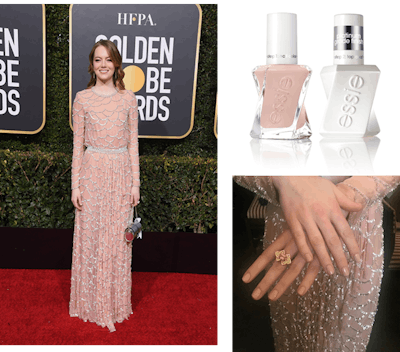 Emma Stone wore Essie Couture Buttoned & Buffed from the new gel couture nude collection. Celebrity manicurist Emi Kudo says, "The gorgeous silver detailing on Emma Stone's Louis Vuitton gown called for a timeless manicure. The creamy nude color played perfectly against her silver tassel embellishments and clutch."
View this post on Instagram
From Halle Berry to Nicole Kidman, Patricia Clarkson to Chrissy Metz and Laura Dern to Lili Reinhart, red was a hit this Golden Globes. Danai Gurira wore OPI by celebrity manicurist Tracylee (@luxebytracylee). "Danai Gurira's nail look was inspired by her custom Rodarte gown. I decided to keep her natural nail length and shape them soft and rounded. OPI Got the Blues for Red is a burgundy red, with the perfect warmth that looks beautiful on her skin tone, says Tracylee Percival.
—Angelina Lewis
[Images Courtesy of Essie]