Astrology might not be an exact science, but it sure is fun. The idea is that the planets aligned just so on the day you were born, and determining where they were in their journey around the sun at the exact moment of your birth holds the key to your personality and life path. So what can you expect in the year ahead? For one thing, Saturn and Pluto will be duking it out to see which is more powerful, and since they express power in completely different ways, you might want to fasten your seatbelts. The good news is that there are plenty of opportunities on the horizon, but while they'll come easier for water and earth signs, fire and air signs can reap the benefits if they don't lose focus. Meanwhile, Uranus is moving into Taurus on March 6, which is good news if you want to jettison anything that no longer serves you. Your Salted Caramel Mocha Frappuccino habit? The client from hell who's always late for her appointment and then decides she hates the color she chose halfway through her manicure? You decide. See what fate has in store for you—and your nails.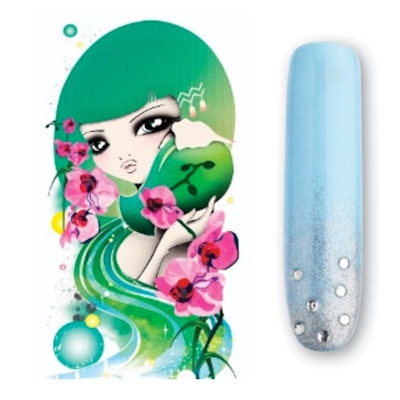 Aquarius (January 21-February 19)
Key Traits: Intelligent, friendly, creative This is going to be a great year for you, but only if you're willing to embrace change. Yeah, we know, you hate change, but trust us, change is good. In January, when everyone you know is getting on your last nerve, keep it to yourself or you'll be on an apology tour in March. Relationships heat up in April when you find yourself reevaluating everything you thought you knew or wanted. Your saving grace this month? Work. Be on the lookout for new projects that could open doors for you. A little birdie told us that the antiaging nailcare market is virtually untapped. Maybe you should investigate. In October use the self-confidence that's been building for months to make the most of a networking opportunity that could bode well for your career, but remember to make time for those closest to you since those relationships could be strained in November due to neglect. In December, give thanks for all you've accomplished this year and don't second-guess any of the choices you made. Yeah, it's kind of your thing.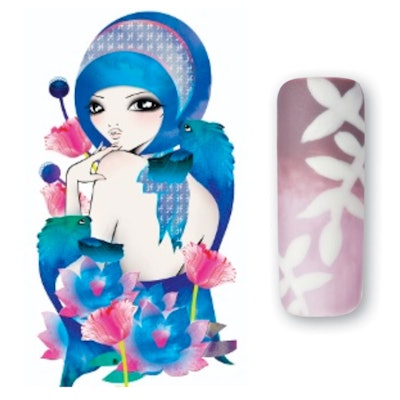 Pisces (February 20-March 20)
Key Traits: Compassionate, artistic, gentle With your sensitive nature, gentle Pisces, you probably sense a disturbance in the "force," but fear not. Change is coming, and that isn't necessarily a bad thing. Ask yourself what it is you want to accomplish in the year ahead, then harness your creativity and make it a reality. That means stepping into the spotlight, which tends to make you a bit uncomfortable, but fight the urge to make yourself invisible. Expect a lot of drama at work in April, but in May things look good for making a career move that could change everything for you. Remember the Boy Scout motto: Be prepared. That means you want to have all your ducks in a row before you present an idea to someone in a position to advance your career. Why not take that idea to NAILPRO Pasadena on May 6 and shop it around? Trust us, you'll be glad you did come December when you look back and realize how much you've grown this year.
RELATED: New Year Nail Designs Inspire Instagram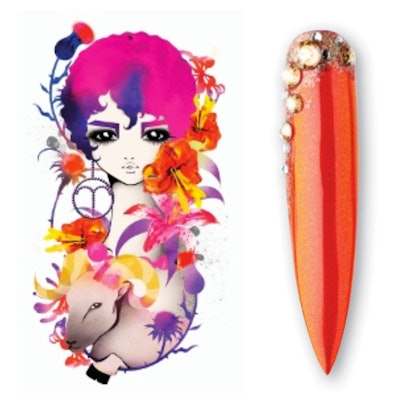 Aries (March 21-April 20)
Key Traits: Confident, spontaneous, daring Everything's coming up roses for the Ram this year, but don't think in terms of money or possessions. Step away from the Gucci, and no, you don't need that Tory Burch McGraw Slouchy Satchel. Really, you don't. This year is all about passion, and we don't mean your crush on that hunky Scotsman from "Outlander." We're talking about turning what you're passionate about—owning your own nail salon, becoming an educator for a major manufacturer, mastering the marble mani—and running with it. At the end of January, surprising opportunities will come your way, but remember that it's up to you to make the most of them. Develop an action plan in February, but don't expect immediate results. Patience is a virtue—and you'll need it if you want things to unfold as they should. Avoid the temptation to overspend in October, and remember that you are laying the foundation for abundance that's sure to come.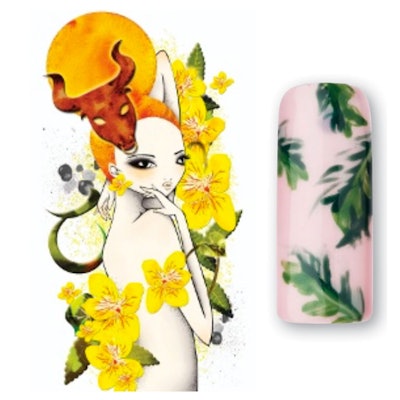 Taurus (April 21-May 21)
Key Traits: Persistent, generous, dependable Buckle up, because it's going to be a bumpy ride for the Bull in 2019. Yes, we know that even thinking about change makes you break out in hives, so stock up on Benadryl and get on with it. If you've been giving, giving, giving and getting nothing in return from the people in your life, January might be the time to get away for a few days by yourself to recharge your batteries. In February, you'll find yourself questioning your career choices and wondering if you could do better elsewhere. By mid-August you'll know for sure if it's time to move on or stay put and better your situation. October finds you extremely focused on what you want, and by December, you'll be giving yourself a high-five for what you've managed to accomplish this year.
RELATED: Set New Year Resolutions to Ensure a Prosperous Business
Gemini (May 22-June 21)
Key Traits: Talkative, outgoing, whimsical Mercurial Twins have one challenge this year: to choose one idea from the many that pass through your head and follow it through. You're a people person, but you need the people in your life to be interesting. Anything less will bore you to tears. Now that we've got that out of the way, what's in store for you in 2019? In January, you'll experience dissatisfaction at work, but that doesn't mean you should jump ship without a plan. We all know that the grass is always greener, yada, yada, so don't do anything rash. That advice holds true until April 17 when the timing couldn't be better to make a move. Proceed with caution when it comes to making investments in June—it may not be the best time to jump on the Bitcoin bandwagon. Expect a surge of creativity in August. Is it time to finally think about submitting your work to NAHA?
Cancer (June 22-July 22)
Key Traits: Tenacious, imaginative, loyal This year is all about finding personal joy, so if you don't think you deserve to be happy or
fulfilled, put that thought out of your mind. Your goal is to make a to-do list of the things that float your boat and then start checking them off. April bodes well for career fulfillment, but you might want to think about taking a class or two that could add to your skill set. A bit of soul-searching in July might find you ready to leave your comfort zone, which is always a good thing, trust us. By October, you may feel so put upon that the best course of action is to stay home and binge-watch "Sons of Anarchy." Even if you've seen it before, an extended dose of Charlie Hunnam, preferably shirtless, is bound to make anyone feel better.
PHOTOS: Sacramento 2018 – The Exhibitors at the Annual Nail Show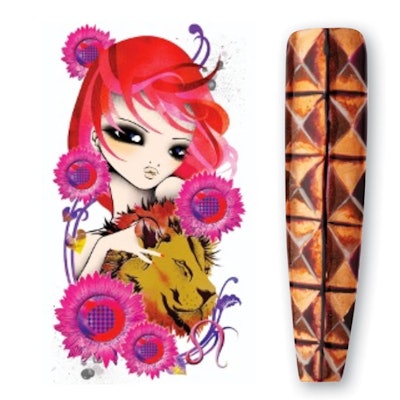 Leo (July 23-August 21)
Key Traits: Energetic, generous, optimistic Self-confidence has never been a problem for you and, like most Leos, you're a fool for love. Love charges your batteries as surely as a Mophie Wireless Charging Base keeps your iPhone from running out of juice, and in 2019 you will reevaluate every one of your relationships. By April, you'll find yourself yearning for a deeper connection with someone, and by year's end, you'll realize that in order for that to happen, you need to be the type of person you want to attract. If that's a hottie with a six-pack, SoulCycle or at least a Zumba class twice a week might be in your future. This isn't going to be an easy year for Leos, but don't let the challenges overwhelm you. You're strong and resilient, and to paraphrase Gloria Gaynor, you will survive.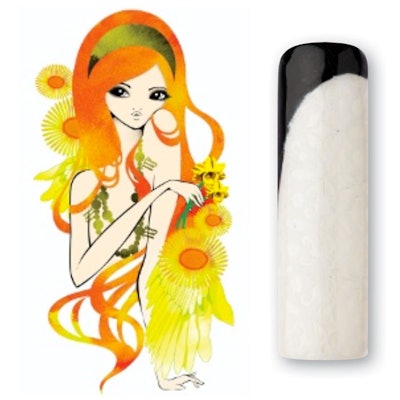 Virgo (August 22-September 23)
Key Traits: Analytical, modest, witty Virgos can accomplish anything if they understand the rules and know exactly what's required of them. Remember that as you move through 2019 when things become clearer for you. If you're the person everyone calls when they have a problem, expecting you to fix it, you might feel a bit irritated in January, which is understandable because the planets have decreed that it's time to put yourself first for once. This is the year for setting boundaries in personal relationships and at work. If it's been a long time since you've raised your prices, do it in April because, quite simply, you're worth it. Take a well-deserved bow in August when others start noticing the great work you do. Your lesson this year is to be honest with others and less critical of yourself.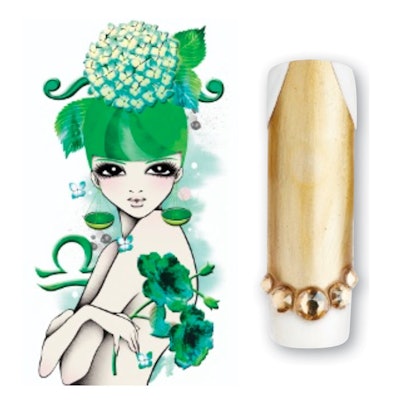 Libra (September 24-October 23)
Key Traits: Kind, diplomatic, romantic While Libras are usually satisfied playing second fiddle, this is your year to take a leadership
role, so put your people skills to work and reap the benefits on the job and in your personal life. January finds you disillusioned with your current job situation, leading you to question the career choices you've made so far. Dissatisfaction at work escalates in February and March, but by July you're ready to shake things up a bit and try something new. Long to see the world on someone else's dime? You could spend a year traveling the globe on a cruise ship where you'll earn good money doing nails and hone your organizational skills. The point is to think outside the box and imagine the life you want. Remember that denial is not just a river in Egypt. Get it, De Nile? So, stop pretending things are just ducky when they aren't and move up to first chair. No more second fiddle for you.
RELATED: The Best Nails from NAILPRO Sacramento 2018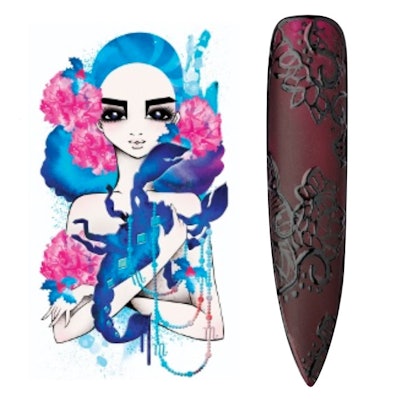 Scorpio (October 24-November 22)
Key Traits: Focused, intuitive, ambitious Scorpios are entering a new seven-year cycle (thank God) because the past seven years were marked by turmoil and insecurity. So what's ahead? This is your year to shine in the workplace where success is yours for the taking. Just make sure that you're doing work that you're passionate about, not just going through the motions. May brings opportunities for meeting people who can advance your career, and in July you'll be positively giddy with all the possibilities out there. Make a long-term plan in August and by September you could be on your way to a whole new life. Dream big—working on the set of "Claws" big enough for you? No matter. If you can dream it, you can do it. And if you play your cards right, you'll have reason to celebrate in December.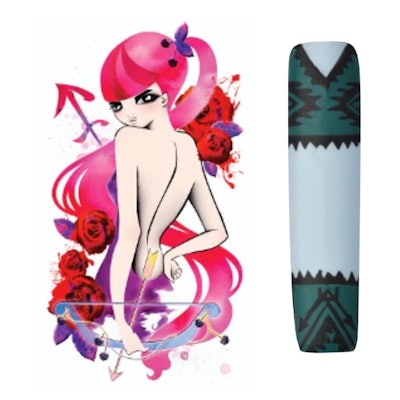 Sagittarius (November 23-December 22)
Key Traits: Generous, idealistic, curious Mighty Jupiter is only in your house once every 12 years, and guess what? This is one of those years. So what does that mean for Archers? Let's just say that you should be wearing one of those "Life Is Good" T-shirts all year long. January is a great month for reaching out and meeting new people, and in February, don't be surprised if an opportunity presents itself that could take your career to a whole new level. Post your work on Instagram so everyone can see just how fabulous you are. Up your game by following celebrity nail techs like Kimmie Kyees (Rihanna, Khloe Kardashian, Chrissy Teigen) or Tom Bachik (Heidi Klum, Jennifer Lopez, Selena Gomez) for inspiration. Get thee to a couple of trade shows and start networking. Do the legwork and you'll reap the benefits come September, when getting a whiff of the sweet smell of success is totally within reach.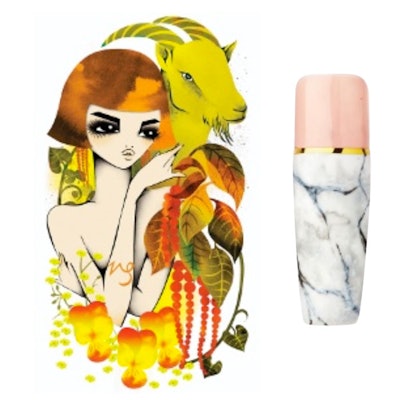 Capricorn (December 23-January 20)
Key Traits: Determined, practical, helpful If you want a job done right, ask a Capricorn to do it. Pragmatic, determined and driven, they won't let you down. The downside is that Caps tend to be harder on themselves than their high school algebra teacher. This year, nose-to-the-grindstone Capricorns need to lighten up a little. Keep that in mind in January when you feel like an energy vampire has sapped your strength. March is time to take stock of what you're worth and demand that you're properly compensated for the work you do. If you're feeling unusually weepy in July, it's because the emotions that you've suppressed for a long time are bubbling to the surface. Let them out and you'll be right as rain come August. Good news for Capricorns who've been feeling a tad under- appreciated: A tsunami of love, affection and newfound respect is coming your way in October. Try to check your usual skepticism at the door and enjoy the ride. You deserve it.
Cosmic Creations
Shoot for the stars with three horoscope-inspired nail art how-tos from Phoenix-based nail artist Leibnitz Barragan.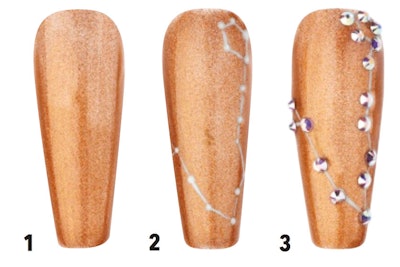 Step 1 Apply two coats of shimmering gold gel polish.
Step 2 Use a dotting tool to create the stars in the Pisces constellation with white gel. Connect the points using a liner brush.
Step 3 Apply a thin layer of no- wipe gel top coat. Affix rhinestones with resin or gel on top of each white dot.
*Cure after every gel application unless otherwise noted.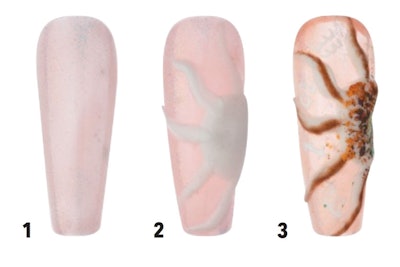 Step 1 Apply two coats of light pink gel polish. Apply glitter dust to the nail.
Step 2 Use white acrylic to sculpt a sun on the nail.
Step 3 Use copper chrome flakes or foil to add accents to the center of the sun and its rays. Then, paint different astrological signs in between the rays with white gel. Finish the design with matte gel top coat on the sun and high-shine gel top coat on the rest of the nail.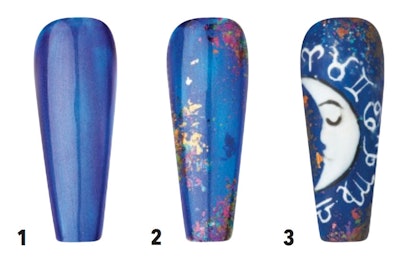 Step 1 Apply two coats of shimmering blue-purple gel polish.
Step 2 Apply multicolor chrome flakes in clusters on the nail. Then, apply a thin layer of clear base gel. Remove the inhibition layer.
Step 3 Paint a crescent moon and different astrological signs around it with white gel paint. Add details to the moon's face with black gel paint. Finish with matte gel top coat.
[Images: Armando Sanchez; Nails by Quincy Adams]