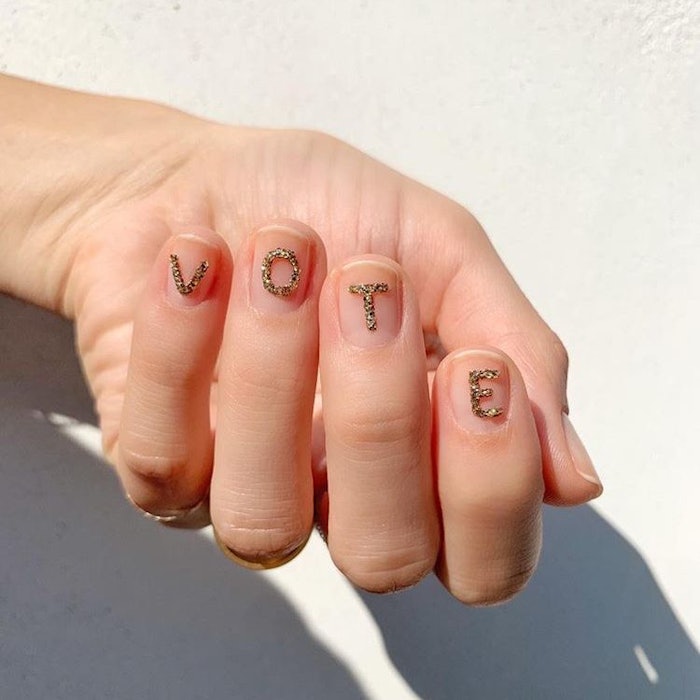 November 6 remained a day in history when we the people came together as a country. No matter your ballot, your state, your beliefs, your reasons—your vote was counted. Your voice was heard.
Election night will forever be the time when we have the ability to be the change instead of just talk about it. It's the day when we live out and exercise democracy and what it means to have the freedom to choose. It's the day when—even when it least feels like it—we are one. When we are truly united.
We hope you all had the chance to vote and be heard. While you check in on the 2018 election polls and results, we've rounded up a batch of the most popular election night nail designs from artists who not only made their voices heard, but their nail looks seen.
 

View this post on Instagram

 
And without saying anything at all, Jaime DeViva said it all through this patriotically powerful set.
Editorial nail artist Betina Goldstein combined a little negative space, glitter and shine to express her views on the importance of voting.
Goldstein writes, "Today is the day your voice has the power to change the future. Not only your future, but the future of your family, your friends and your neighbors. Your voice matters. Vote!"
Chicago nail artist Ash Crowe told her voting story through this colorful, but simple set.
This tropical set by Vanity Projects Miami stayed true to the city's coastal community, while communicating its message crystal clear!
Nail artist Savannah Walker repped an election-inspired hand painted nail design for all her clients, but made sure to hit the booth first!
Victoria Kirk encouraged her community to be the change and seize the day to vote!
—by Angelina Lewis