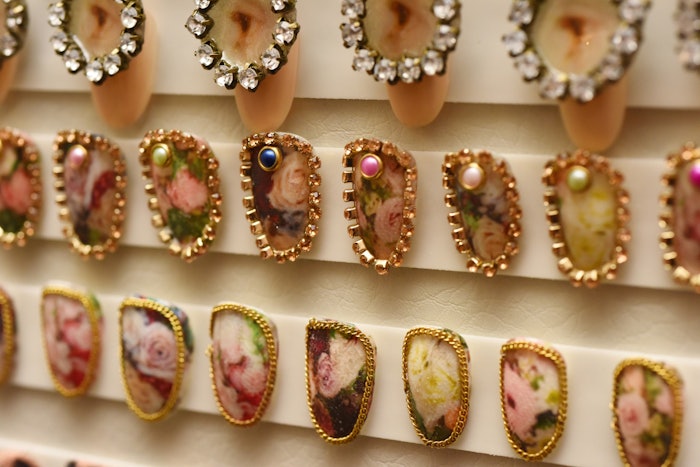 %{[ data-embed-type="image" data-embed-id="5f209d5eef1c6c6a0ce6b04d" data-embed-element="span" data-embed-alt="Libertine Spring 2019 Collection" data-embed-src="https://img.nailpro.com/files/base/allured/all/image/2018/09/np.GRA_4264A.png?auto=format%2Ccompress&fit=max&w=1280&q=70" data-embed-caption="Libertine Spring 2019 Collection with Nails by Creative Nail Design CND held at Spring Studios during NYFW in New York City, Monday, September 10, 2018.<br /><br>Photo by Jennifer Graylock-Graylock.com<br /> 917-519-7666" data-embed-width="853" data-embed-height="1280" ]}%
Victorian romance was both hard fought and delicate. Lovers were separated by distance and war, and loved one carried small trinkets to keep their love alive. Instead of love fizzing out over time, it only grew stronger. For the Spring/Summer 2019 collection, Johnson Hartig for Libertine was inspired by this kind of old-world love. The CND creative team was on-hand to create nail tips inspired by the vintage keepsakes, "Our biggest inspiration was drawn from the romance of the collection," lead CND artist Heather Reynosa explained. "It's both melancholy yet hopeful. It reminds me of the hope you come away with after a memorial where you can't help but want to do better with the time you have left."
Related: Check out all of our favorite NYFW nail looks!
To translate this inspiration to their nail designs, Reynosa and team created nail designs that featured antique rose patterns, 24k gold frames, and classic Victorian Silhouettes (including nail tips that incorporated hand braided locks of hair framed with caviar pearls!) As CND Co-Founder and Style Director Jan Arnold explained, "we were incredibly inspired by [Johnson's] slightly melancholy tribute to the antique. The CND design lab team have curated nails that perfectly translate this romantic vision."
-Dina Ciccarelli
[Images: Courtesy of CND]
Check out the slide below to view the collection!