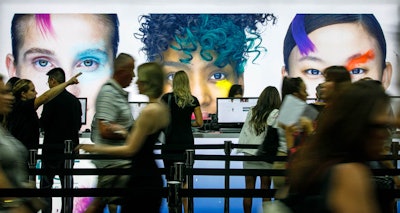 Cosmoprof North America (CPNA) announces today registration is now open for the 16th edition of the all-encompassing, award-winning, b2b beauty exhibition. The event will once again be held at the Mandalay Bay Convention Center in Las Vegas, Nev., from July 29 through the 31st and Early Bird registration with a 25% discount is now available until June 29th. The award winning event covers all facets of the industry – offering retailers, distributors, beauty brands and suppliers alike the unique opportunity to discover trend-directional solutions to meet their needs from the acclaimed packaging, cosmetic and personal care and professional beauty pavilions.
The event also provides ample opportunity for attendees to grow their business through its robust educational programs which are now also open for registration. The educational programs are being offered in cooperation with many leading associations and publications including; Women's Wear Daily (WWD), Entrepreneur Magazine, Buzzfeed, Insider's Guide to Spas, CEW, The Brain Trust-CAA, FIDM, Beauty Packaging, BXP Magazine, Cosmetics Design, Professional Beauty Association (PBA) ICMAD, and CEW. The Entrepreneur Academy also takes place, offering a day long series of workshops, not offered by any other industry event or trade show, focused on everything you need to know to run a beauty business.
Additional programs will continue to be offered in the coming weeks. Attendees are encouraged to check this link for updates and additional offerings.
"Cosmoprof North America is a celebration of beauty that provides key executives from around the world with the opportunity to discover new partnerships for growth and innovative solutions for evolving brands," said Daniela Ciocan, CPNA Marketing Director. in a press release. "This year's unique educational programs, coupled with the high caliber of our attendees, guarantees yet another successful event that will exceed expectations."
To register, please visit www.cosmoprofnorthamerica.com.