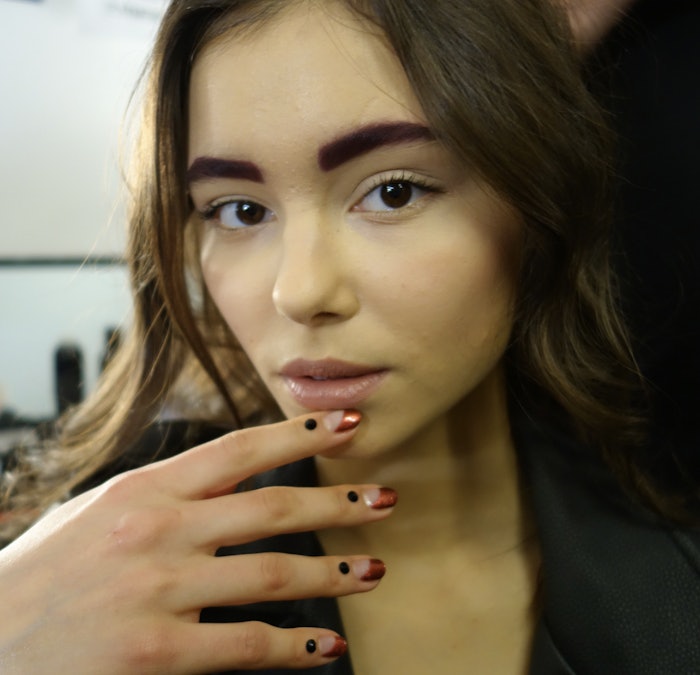 Bibhu Mohapatra's A/W 2018 collection takes cues from the works of Francesco Clemente and explores the relationship between Great Expectations' Estella and Miss Havisham. From love to neglect to forgiveness, the dynamic can be explained by the intricate nail look by lead manicurist Miss Pop using Zoya in Tawny and Zoya in Aspen.
Here's how to recreate the look:  
Begin by cleaning and prepping the nail with Zoya Remove Plus.  Follow with Zoya Naked Manicure Naked Base. Apply a coat of Zoya Naked Manicure Buff Perfector. Lay a French tip guide on its side in order to create a seamless negative swoop. Apply a swoop of Zoya in Tawny onto the nail, adding a second coat. Lift the guide and finish of with Zoya Naked Manicure Glossy Seal to seal the look. For a quick dry, add a few drops of Zoya Fast Drops. To top off the nail look, add a jewel a centimeter down from the nail onto the skin. Swap out Tawny for Zoya in Aspen, repeating the same process.
Watch the video below to hear Miss Pop describe the swoon moon look:

What do you think of these side swoop moon nails? Let us know in the comments below!-Sigourney Nuñez[Images: Karie Frost]