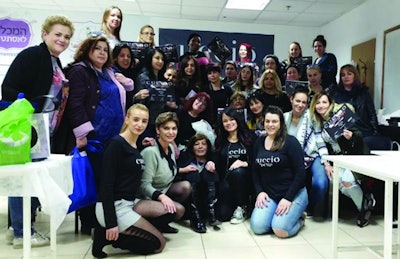 In February, Cuccio International global education director Marilyn Olemma Garcia traveled to Israel to host an educational event to celebrate the Valencia, California-based manufacturer's partnership with Glowtech, one of the country's leading beauty distributors. Garcia taught the more than 150 attendees the latest techniques using top Cuccio products, including CuccioPro Powder Polish Dip. Additionally, Garcia held classes in the Haifa and Beersheba areas to teach techs how to use the Cuccio line to boost profits in the salon. "It was such an amazing experience to be in a country that's so rich in history," says Garcia. "I was able to reach a large audience and give techs the opportunity to grow and attain their goals."
Do you find educational events helpful? Please let us know in the comments below!
Read the full article in the August 2017 issue of NAILPRO Magazine.
[Image: Courtesy of Cuccio]
RELATED:
Go Behind the Scenes the Making of NAILPRO January 2017 Cover with Marilyn Garcia