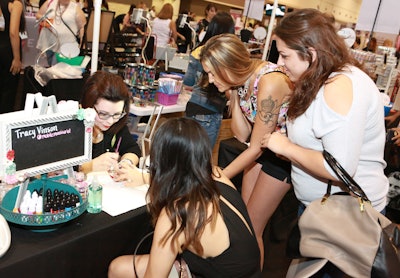 Headed to the Premiere Orlando show? Don't miss out on nail education from some of the industry's biggest names. Scheduled for June 3-5, appearances will include CND co-founder and style director Jan Arnold, Young Nails president Greg Salo, nail industry veteran Tammy Taylor and social media influencer Tony Ly. From hands-on workshops to more than 50 complimentary classes and even NAILPRO Competitions, the event promises to help techs stay up-to-date on the latest trends and stock up on all of the essentials.
Featured Nail Education at Premiere Orlando:
CND
Schedule: Saturday 1:00 – 2:30pm, Sunday 10:00 – 11:15a & 1:00 – 2:15pm and Monday 10:00 – 11:15 am
Join CND's elite education team featuring Jan Nordstrom-Arnold, Winnie Huang, Lauren Wireman, Doug Schoon, Kristina Estabrooks, John Nguyen, Lynn Cote, Melissa Pechey and Holly Schippers for some phenomenal classes throughout the weekend. Topics include Trend Prediction, Seasonal Trends, Troubleshoot and Secrets to Success with Retention+® Liquid & Powder. Pre-registration is required for these classes.
Designed by Tony Ly
Schedule: Saturday 11:00am – 3:00pm
Learn to master your salon-style acrylic application with Social Media Influencer, Tony Ly. Attendees will also learn creative ways to design nails using colored acrylic as well as embellishments to make them look better. Tony Ly has more than 10 years of expertise in the nail industry and more than 400k followers on Instagram. He is a dedicated hard worker who enjoys his craft of making unique custom nail designs out of acrylic.
Mindy Hardy Nails
Schedule: Sunday 4:00 – 5:15pm and Monday 2:15 – 3:30pm
Join Social Media Influencer Mindy Hardy as she shares her nail art secret tips and tricks that she uses in her salons to create beautiful trendy nails that will have you earning more money and increasing your clientele!
Nancy King
Schedule: Sunday 9:30 – 10:30am & 12:30 – 1:45pm
In the morning, join Nancy King for an informative session on how to identify issues with elderly feet, unhealthy conditions of clients' feet, which products are best for cleaning and disinfecting, reducing the risk of infection to your clients and protecting yourself from liability. Grab some lunch, then join Nancy in the afternoon and learn about the line between medical practice and nail services and learn how the FDA classifies medical devices and what classes of devices you can use with your license no matter where the service is performed.
Orly
Schedule: Sunday 9:30 – 10:30am & 2:00 – 5:00pm and Monday 9:30am – 12:30pm
If you are looking for a gel system that lasts, has high shine and quick, easy removal then spend some time on Sunday morning with Elsbeth Schutz and learn tips and tricks for quick application, making gel manicures last longer and the benefits of a quicker minute soak removal. Want to get hands-on experience, then for an additional fee, join Tammi Merritt on Sunday afternoon for a hands-on workshop on textural designs or spend some more time with Elsbeth on Monday morning for a hands-on workshop on the Art of Painting.
Tammy Taylor Nails
Schedule: Sunday 12:30 – 1:45pm and Monday 12:30 – 1:45pm
            Spend some time with Tammy Taylor and Gisela Marti and learn the art of nail sculpting and mundillo lacing technique. Tammy will be teaching the fine art of laying acrylic quickly and flawlessly on a nail form with her famous 12 step system.
Young Nails
Schedule: Sunday 11:00am – 12:00p & 3:30 – 4:30pm and Monday 11:00am – 12:00pm & 3:30 – 4:30pm
Come and learn from Greg Salo how to get a piece of the action and make some serious coin. This class will have an in-depth discussion and demonstration on proven Caption Polish application techniques and Caption Art Screens.
For more information about classes or to purchase tickets, visit premiereorlandoshow.biz.
Make sure you share your Premiere Orlando photos with us on Instagram using #NAILPRO! 
[Image: Courtesy of Premiere Orlando]