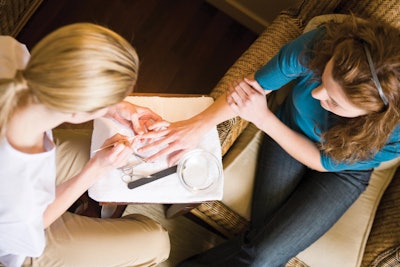 There's no question that you develop close relationships with your clients in a salon setting. Recognizing those strong connections, a new law that went into effect on January 1 requires all beauty professionals practicing in the state of Illinois to take a one-hour, one-time continuing education course on domestic violence as part of their two-year licensing renewal process. Although the requirement will not apply to the September 2017 licensure renewals, it will be in effect for the October 2018 licensure renewals for nail techs and nail technology teachers, according to the Illinois Department of Financial and Professional Regulation.
RELATED: Mastering Social Media
The hour-long training that beauty pros will receive was developed by Chicago Says No More, a coalition of agencies serving those affected by domestic violence and sexual assault, along with Cosmetologists Chicago. "Because of the close relationship between every salon professional and his or her client, having the education about domestic abuse and sexual assault will prepare them, if they choose, to connect clients—or perhaps a family member or even themselves—with options to escape from these situations," says Karen Gordon, vice president of Cosmetologists Chicago and owner of J. Gordon Design Salon in Chicago. The program was tested at America's Beauty Show (ABS) in March 2016, before the bill was signed into law, and Cosmetologists Chicago has been granted the exclusive right to offer the new course during ABS this March 25 through 27. Additional classes will be offered through Chicago Says No More later in 2017 and going forward.
[Image: Getty Images/Uppercut Images]
This story was originally published in the March 2017 issue of NAILPRO.