At Jenny Packham Fall/Winter 2017, the ready-to-wear collection was refreshingly British and feminine with a bit of a punk twist, and the nails were just as edgy. The collection was all about "what it means to be British," inspired by the things that define the British identity.
Pearls, tartan, youth culture and a bit of an edge, led manicurist Julie Kandalec for Essie to create a modern take on the French manicure and layered chevron French over a negative space base.
The tonal, off-center design was used by layering two earth tones together, leaving the nails looking timeless and modern at the same time.
Detailed beauty shot of the nails for Jenny Packham.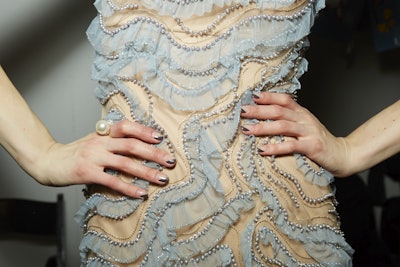 The nails against one of the looks from the collection.
Get the look:
Start by applying Essie First Base Base Coat to each nail.
Then, using the side of the Essie brush, apply master plan to the tip of each nail creating one side of the diagonal. Allow to dry.
On the opposite side of the nail tip apply Essie Smokin' hot, extending the diagonal just a bit so you have an asymmetrical tip.
Finish with Essie Good to Go Top Coat for a high-gloss shine.
TIP: When using two different hues of the same tone to create a chevron French manicure, Kandalec suggests starting with the color that is the most sheer.

What are your thoughts on this modern chevron French? Let us know in the comments below, and then read more NYFW coverage.
[Images: Courtesy of Essie]