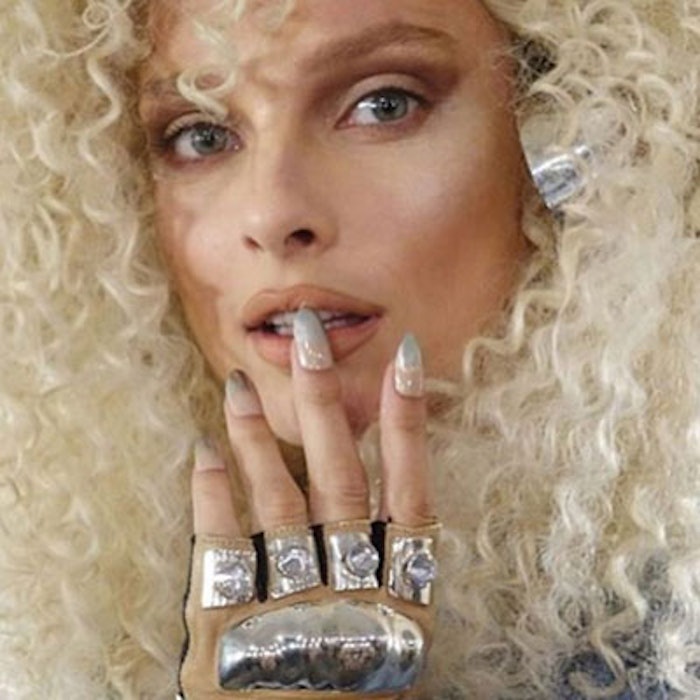 For their Spring/Summer 2017 collection, eccentric design duo The Blonds channeled the goddesses and gods of Greek mythology with a collection that featured sophisticated, flowing neutrals coupled with powerful, statement-making hardware. To complement the dynamic, yet sublime looks, celebrity manicurist Mei Kawajiri created twenty different designs that ranged from graphic lines to metallic marbles to, our favorite, icy crystals that represented the goddess in every woman. See Kawajiri's hardware-heavy design for The Blonds below.
To create the set of looks, Kawajiri used an assortment of neutral and metallic Morgan Taylor polishes, and Preciosa crystals. The polishes she used include (all Morgan Taylor):
To create the base for her looks, Kawajiri used Morgan Taylor React Extended Wear top coat, the first top coat to allow for chrome powder on a lacquer polished nail, on top of her base color. Once React was applied, she let the nails dry for 3 1/2 minutes, brushed on her powder and was ready to go.
See another chrome look from The Blonds S/S 2017 show below.
What do you think of the runway looks? For more nail designs by Mei Kawajiri, check out her Instagram here.