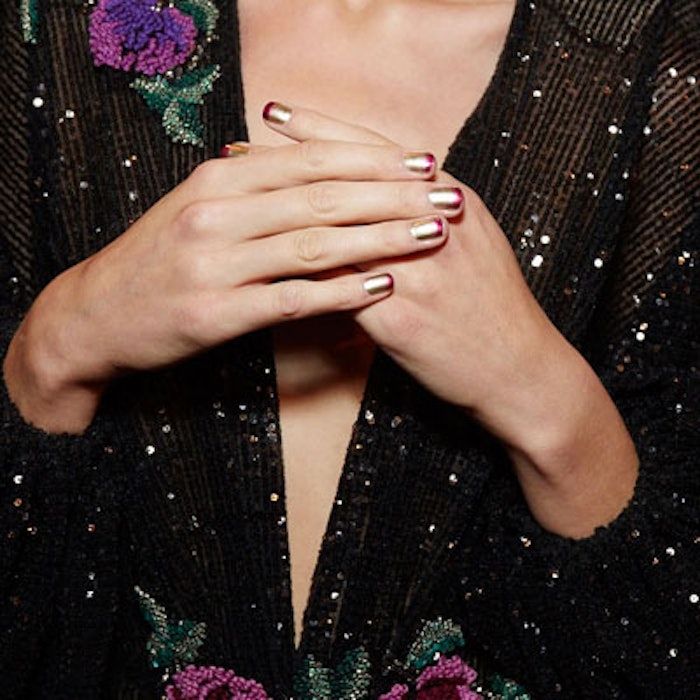 Drawing inspiration from Michael Costello's S/S 2017 show which explored the light and dark side of femininity, Rita Remark created a gorgeous ombre nail design for essie that, through its lush, contrasting colors, captured both the beauty and tragedy that is the feminine ideal.
Deep colors, rich fabrics and an appearance from Tyson Beckford marked the gorgeous Michael Costello show as models glided down the runway wearing fecund flower crowns and flowing Grecian dresses or jumpsuits made of luxuriant plum fabrics. The gothic, yet feminine looks captured the expression of the Michael Costello show which was that femininity is a dual-natured beast that possesses both light and dark qualities.
In order to capture the brooding, romantic atmosphere, celebrity manicurist Rita Remark created a gorgeous ombre nail that featured a brilliant gold contrasted with a dark plum. See the nail design below.
essie Products Used:
Get the Look:
Prep and prime the nails; apply First Base base coat.
Apply one coat of Good as Gold.
With a latex makeup wedge, apply Good as Gold and Sole Mate horizontally on the wedge; lightly blend the colors together.
Working quickly, tap the wedge onto the nail to create a soft ombre design.
Repeat Step 4 on all 10 nails and seal the look with Good to Go top coat.
Pro Tip: If the polish from the makeup wedge transfers to your cuticles, Rita suggests dipping a Q-tip in acetone for easy clean up!
Go backstage at the Michael Costello show below.