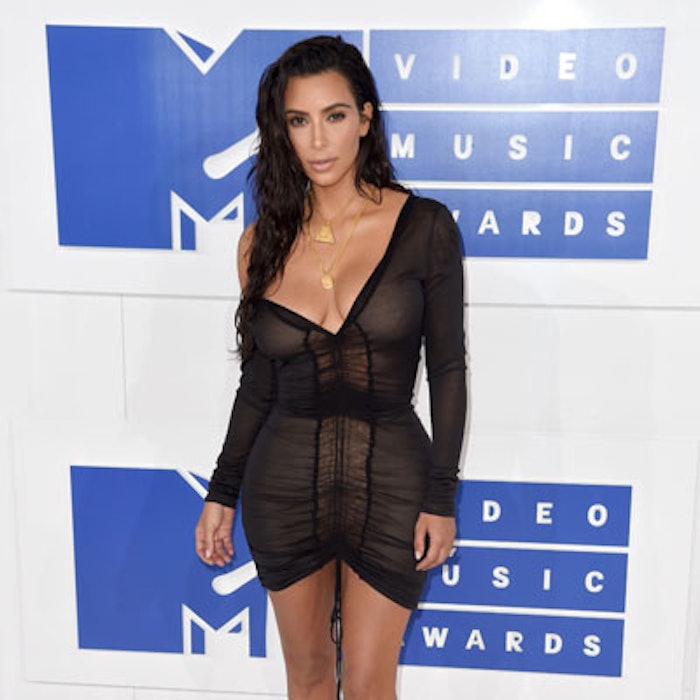 To match Kim Kardashian's sheer black mini-dress, celebrity manicurist Kimmie Keyes chose the perfect color compliment: pink! Here, the polish behind Kim Kardashian's alluring red carpet look.
Get the Look: Kim Kardashian VMAs 2016 Sheer Manicure
While Kim Kardashian's revealing mini-dress garnered more than its fair share of media attention, it was her pale pink manicure by celebrity manicurist Kimmie Kyees that really piqued our interest. Kimmie complemented Kim's racy black dress with a delicate and feminine sheer pink. The result was a soft, yet edgy look that suited the VMAs, an awards show known more for its fashion and beauty than music.
According to Kimmie, Kim was responsible for the look, noting that "Kim wanted a clean, polished manicure to accompany her sheer, black mini dress. essie's gel couture in Sheer Fantasy was a beautiful, delicate pink hue to match."
Sheer Fantasy is from essie's newest hybrid polish line, gel couture, and retails for $11.50 at essie.
What do you think of Kim's manicure? Sound off on Facebook!
Image courtesy of mml pr.