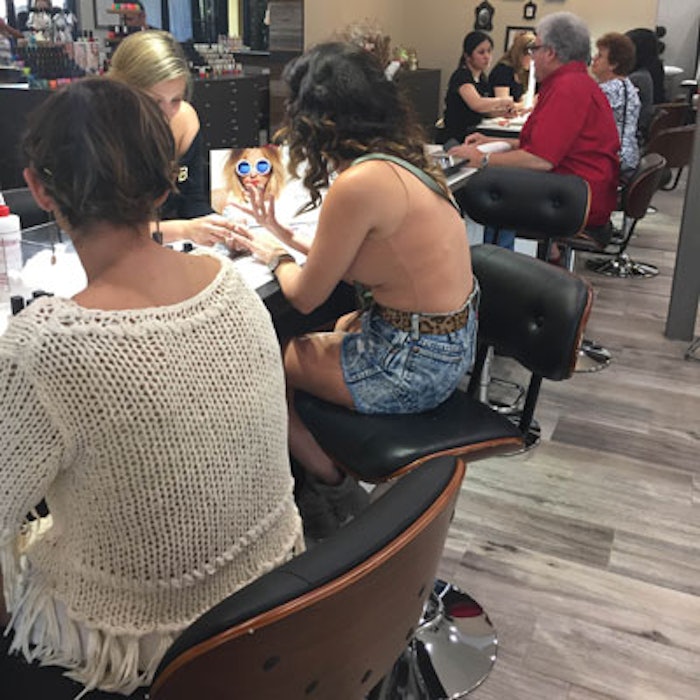 Studio City nail salon, Nail Garden, celebrated their ten-year anniversary this week by partnering with UCLA's Mattel Children's Hospital to host a Toy Drive. Beauty for a cause? We're all about it! Here, more information on the charitable celebration.
Nail Garden Celebrates 10-Year Anniversary with UCLA
When Nail Garden turned 10, what was the first thing they did? Celebrated with a Toy Drive! Now that's what we call a birthday celebration. This week, we were fortunate enough to catch the ten-year anniversary of iconic Studio City nail salon Nail Garden. Founded in 2005 by Rahem, then a USC student and budding entrepreneur, Nail Garden has since grown into a national franchise with 12 locations throughout California and Texas.
In response to the lack of luxurious nail salons in which clients can feel pampered rather than rushed, Rahem wrote up her business plan detailing a trendy, comfortable interior with superior salon services that encompass all facets of beauty: hair, makeup and nails. For Nail Garden owner, Rahem, there's no other way but up as she compares the future of Nail Garden to that of Starbucks, stating, "We want Nail Garden to be the Starbucks of nails. So whenever someone thinks of nails, I want them to think of Nail Garden." One look at the salon's polished, yet relaxed interior and growth of that scale seems like an inevitable reality for the beauty franchise.
Because of their longstanding history with UCLA, Rahem and her husband, Joshua, knew that when it came time to celebrate Nail Garden's anniversary, there would be no better way to do it than with a Toy Drive benefitting UCLA's Mattel Children's Hospital. The Toy Drive celebration brought out young bloggers and YouTube stars, all of whom brought toys and knickknacks to be donated to the hospital's patients.
To kick things off, there was an all-too-tempting table of peanut butter and jelly and chocolate cupcakes, cookies and other food items for guests, as well as a fun photo booth and red carpet. NCLA was on-site giving out free manicures with a limited selection of their polishes and wraps. Guests could also get their eyelashes, hair and makeup done by a variety of beauty industry professionals, as well as get their manicure and pedicure on. As soon as my sugar cravings were satisfied went away, you better believe I got an NCLA mani complete with tropical print wraps. While getting your nails done is always fun, it was even more heart-warming to see the turnout! In addition to young bloggers, customers and friends showed up in droves to support both Nail Garden and UCLA, meaning that there was no shortage of toys, fun and positivity.
For Californians and Texans, Nail Garden offers a range of beauty services, all of which can be seen here.