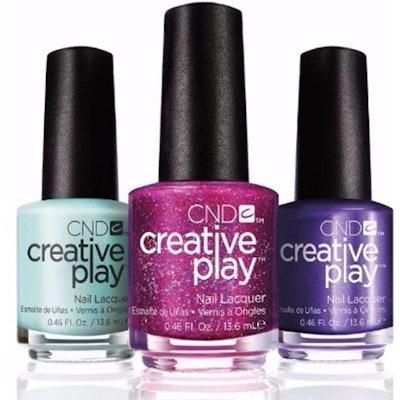 CND, the brand you trust for Shellac, Vinylux, and other professional nail products has just announced their brand new lacquer line, Creative Play. With 80 colors across 10 different finishes, the new Creative Play line is designed to let you experiment with art and color in a way that's easy to layer, change, and remove.
"At CND, we are always looking for opportunities to elevate the standard in professional nail color," says CND Co-founder and Style Director Jan Arnold. "Creative Play Nail Lacquer plays with dimension, pops with pigment and pushes outside the boundaries. This new line redefines traditional nail lacquer with color that breaks the rules through emotive, energized shades that allow you to express your individuality."
Formulated with micronized pigments, this traditional three-step system delivers smooth, uniform application with high-gloss and richly saturated color. Developed for consumers who desire frequent color change, and to simultaneously serve the needs of the professional nail community, Creative Play Nail Lacquer offers flawless results with minimal effort for the ultimate color story every time.
These polishes are 7-free, which means they're free of toluene, camphor, formaldehyde, phthalates (DBP), formaldehyde resin, xylene, and methyl ethyl ketone (MEK). They remove easily with CND Nourishing Remover and come in a whole range of finishes: holographic glitter, metallic, metallic glitter, micro glitter, multi-color glitter, pearl, satin, shimmer and transformer.
Creative Play will be available April 2016. Suggested price for in-salon services using Creative Play Nail Lacquer range from $20-25, depending on location. Suggested retail price for Creative Play Nail Lacquer, Base Coat and Top Coat is $7.50 per bottle.
For more information, visit cnd.com.
Images: CND