Nails were simple and chic at this year's Oscars – popular shades were classics like nude, red and black. Here are a few stars who arrived at festivities well polished!
 
Sarah Silverman got a manicure from Melissa DeLaCruz, who gave her nails a sheer pink tone with Caption Polish Rough, Tough and in the Buff.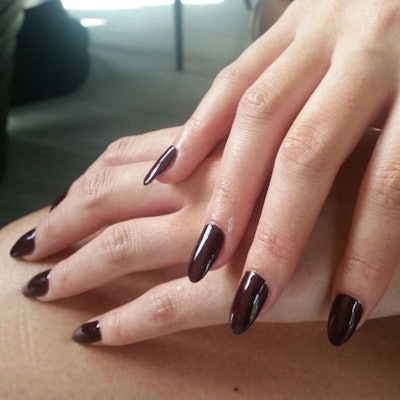 Celeb nail artist Kimmie Kyees took on the task of giving Chrissy Teigen the perfect Oscars manicure. Here's her how-to for the long, burgundy look:
+ "I began the manicure by filing Chrissy's nails into the desired shape
+ "I then cleaned her nail beds using Red Carpet Manicure Purify and Red Carpet Manicure Prep
+ "I followed up with a thin coat of Red Carpet Manicure Structure Base Coat
+ "I then applied two thin coats of Red Carpet Manicure Gel Polish in Glamspiration
+ "For a high-gloss, long-lasting finish, I finished the manicure with a coat of Red Carpet Manicure Brilliance Top Coat
+ "When Chrissy was ready for the red carpet, I brushed on another coat of Red Carpet Manicure Revitalize Cuticle Oil for added sheen and she was on her way!"
 
Kimmie Kyees also dolled up Hillary Swank for the Academy Awards. She used a similar burgundy nail with a negative space moon using Orly Plum Nior.

Manicurist Tracey Sutter used Essie Polish in Bordeaux to give Jennifer Garner an iconic Old Hollywood look.
 
Daisy Ridley (Rey from the most recent Star Wars sported a neutral mani in Deborah Lippmann Naked alongside her jewel-covered gown.
Image of Chrissy Teigan's nails: Kimmie Kyees, Red Capet Manicure