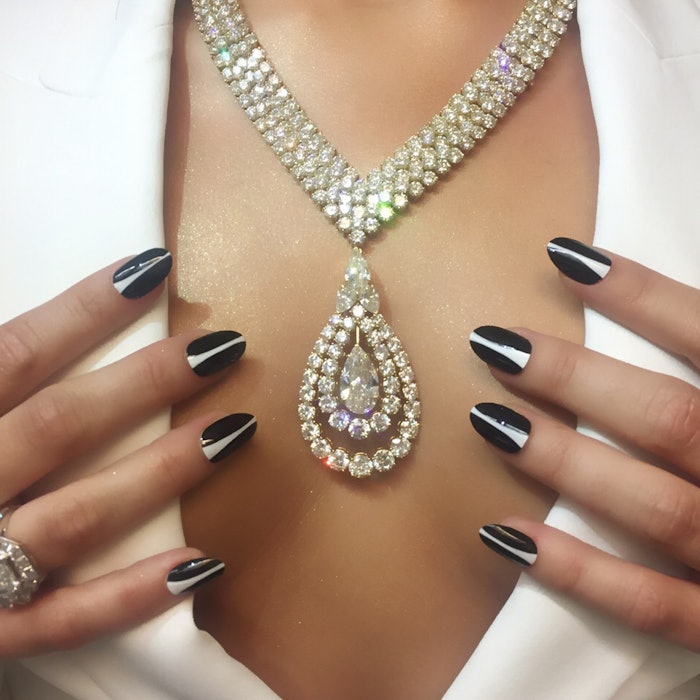 Demi rocked two looks at the Grammys, both on the Red Carpet and during her performance of Lionel Richie's "Hello."
Demi's Red Carpet look: An oval shaped nail complete with Red Carpet Manicure's Black Stretch Limo Gel Polish, a chic, pitch-black hue. "To get the perfect oval shape just like Demi's, I recommend using a glass nail file," said celebrity manicurist, Brittni Rae (@brittninails). "File from the outer corner of the nail towards the center at a slight angle on each side of the nail, and use a gentle buffer (I LOVE RCM's Smooth & Shine Buffing Block!!) ($3 at Nordstrom) on the underside of the nail for a smooth finish.
"Next we used the chic Red Carpet Manicure Black Stretch Limo Gel Polish to create a look that perfectly complimented Demi's hair, makeup and outfit!"
Demi's Performance Nail: To match Demi's wardrobe change, Brittni added a touch of sophisticated nail art to Demi's solid black manicure.
For the quick change, Brittni first painted Demi's entire nail with Red Carpet Manicure White Hot Nail Lacquer and then (very carefully) added black half circles with Black Stretch Limo Nail Lacquer Available at RedCarpetManicure.com), leaving a small amount of white in the middle.
"I love this look because it is classy and simple, yet keeps her looking cool youthful and cool," said Brittni. "It adds just the right amount of detail to her stunning look. I really think finely detailed nail art is going to make a strong comeback in 2016!"
Images: Brittni Rae (@brittninails)