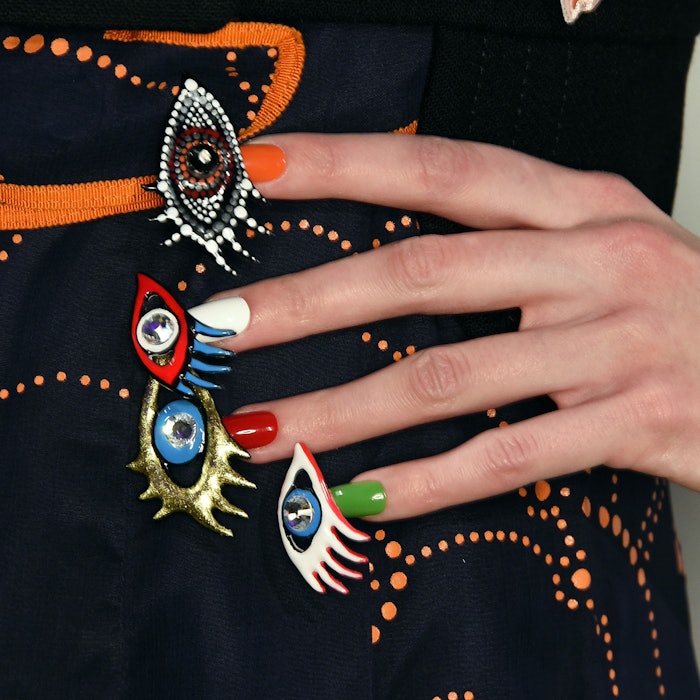 CND unveiled an eye-catching collection of hand-crafted nail designs tonight at Libertine's Fall/Winter 2016 Show at Skylight Clarkson Sq. in New York. Inspired by Johnson Hartig's muse of the season, a French sculptor, painter and filmmaker, with enlightenment from transcendental meditation, the clothing and nails featured graphic elements of modernism with sculptural extravagance in vibrant and animated color. Punctuating the surrealistic designs were enameled finishes, pupils that glowed with magical beams of light and fine crystals that lit up the runway. The outcome was wildly playful fashion collaboration, ultimately rooted in reality.
"This is now our fourth season partnering with Libertine's Johnson Hartig and our synergies are intuitive and based in an artists' understanding of design and fashion. Johnson shares his extraordinary vision and we're right there with him!  That's true and inspired partnership," said CND Co-founder and Style Director Jan Arnold. "With this collection, we were able to embody CND's Fall 2016 trend story, which is all about authenticity, hand-crafted artistry and embracing the beauty in raw imperfections."
The elite artists of the CND Design Lab Team clocked over 200 hours of production on the works of art created for this season's runway show. To complement beaded eye embellishments featured on the unique Libertine garments, the team hand-sculpted 180 eyes in various sizes using
RETENTION+
Liquid & Powder, then painted the eyes with
SHELLAC
Brand 14+ Day Nail Color and
VINYLUX
Weekly Polish in vibrant color combinations of red, green, blue, orange and pink, grounded in black and white accents. Finished with 60 LED-lit Swarovski crystal pupils, the eyes represented the quiet aloneness and centered spirituality achieved through meditation. An additional 180 pastel matte base nails were decked out with soft, fluffy adornments for a luxe organic finish.
"One of the coolest things about this partnership is the artistic vision our team shares with Johnson," said CND Design Lab Team member Heather Davis, who led the charge on the creative concepts for the nails. "He recycles the work of classic designers and refurbishes them into modern interpretations, while we take classic core colors and reinvent them with artisanal techniques like mosaic tiling and porcelain enamel finishes. It's pure magic when we get together to create."
"They are a dream team sent from heaven above!" said Libertine designer Johnson Hartig. "This season, they not only created out-of-this-world nails for the female AND male models, but they even sculpted miniature eye pins to accessorize the clothing. They go above and beyond every season, and the show just wouldn't be the same without them."
See the whole gallery of images from the event:
For visuals, how-tos and behind-the-scenes coverage of CND's Fashion Week Fall/Winter 2016 designer collaborations and nail designs, please visit the CND Fashion Week Digital Headquarters at
http://cnd.com/fwdigitalhq/
.
Images: CND