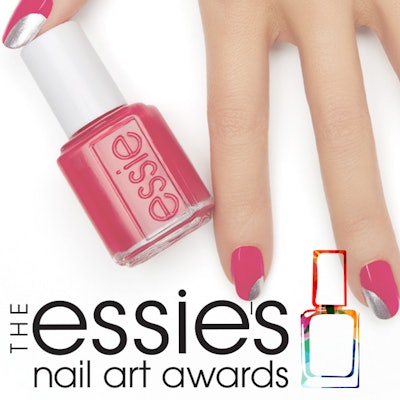 Are you feeling lucky? Essie is hosting a first-ever series of nail art challenges on Youtube and Essie.com to discover the next great nail artist. Kicking off on January 6th, 2016 Essie fans and upcoming nail art superstars will have the opportunity to join the four-phase contest for a chance to win the grand prize – a $20,000 partnership with Essie, a spot at New York Fashion Week with Celebrity Manicurist, Michelle Saunders, and much more! The final two winners will be determined through a combination of online fan votes and Essie's panel of experts, including:
Carolyn Holba – General Manager, Essie worldwide
Jenny Fox – Founder and vlogger behind Jenny Claire Fox, a top nail art and beauty Youtube channel
Katie Rodgers – Artist and Creator of Paper Fashion
Michelle Saunders – Essie celebrity manicurist
Rebecca Minkoff – Essie Global Color Designer and industry fashion leader
The Essie's will run January 2016 through June 2016, broken into four phases, including:
Phase 1: Qualifying Challenge (January 6th – February 22th)
 Qualifying submissions will open to all participants. Contestants will be required to upload two videos to essie.com, including: an "All About You" video and a "Show Us Your Skill" video, creating any nail look using Essie nail and care products. The first 1,000 entries will receive Essie's Gel Setter kit and the creators of the top ten videos, as selected internally by Essie, will move on to phase two.
Phase 2: Spring Trend Challenge (February 22th – March 28th) 
In this phase, the top ten contestants will receive Essie's spring 2016 collection and challenged to create the ultimate spring trend inspired nail art look. Videos will be uploaded to Youtube.com where online fan votes will determine the top six semi-finalists moving to phase three.
Phase 3: Dream Getaway Challenge (March 28th – May 2nd)
 Six lucky semi-finalists will receive an Essie branded polish rack filled with 90 shades, and be tasked with creating a nail art look inspired by their dream getaway. The top three finalists, as chosen by online fan votes, will move to the last phase.
Phase 4: Blank Canvas Challenge (May 2nd – June 6th)
 The three finalists will be flown to New York to film their last video in Youtube's studio. For this challenge, they will be given a blank canvas and challenged to get expressive. Essie's expert panel will select the top two winners who will be announced on June 1st and receive:
ONE Grand Prize Winner – chosen by the judging panel
$20,000 partnership with Essie
Featured as Essie's nail art ambassador in how-to videos, a behind the-scenes experience with Michelle 
Saunders during New York Fashion Week and so much more!
ONE Fan Favorite Winner – chosen by the public voters
For complete contest rules and information, please visit essie.com/theessies
Images: Essie