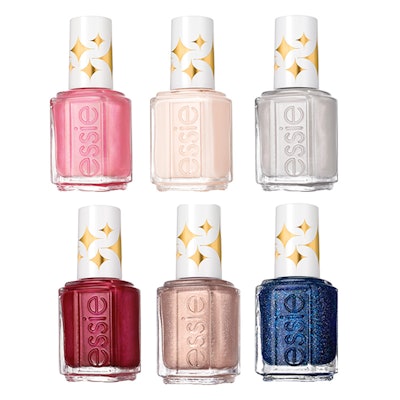 In honor of Essie's 35th anniversary, they are releasing six iconic discontinued shades from their vault in their Retro Revival 2016 collection – including the long sought after Starry Starry Night.
Until now, Starry Starry Night was only available via eBay, with single bottles often fetching hundreds of dollars. Birthday Suit was part of Essie's original twelve shades released in 1981.
The full set includes:
+ Starry Starry Night (twinkling midnight blue)
+ Life Of The Party (pinot noir pearl)
+ Bikini With A Martini (frosted iridescent pink)
+ Sequin Sash (a sheer glittery bronze with silver flecks)
+ Birthday Suit (cheeky delicate nude)
+ Cabana Boy (ultra-cool pearly white)
Each lacquer's cap is adorned with gold diamonds in honor of the iconic Stardust Casino in the city where the brand first began – Vegas. When it first debuted, showgirls and chic card dealers fell in love with the Essie's dazzling colors and shimmery finishes. Today, Vegas is where Essie has their flagship salon, LOOK Style Society.
After this collection first went live on the website, Starry Starry Night sold out in less than 24 hours. But don't worry, it will be back on Dec. 22nd right here!
Images: Essie