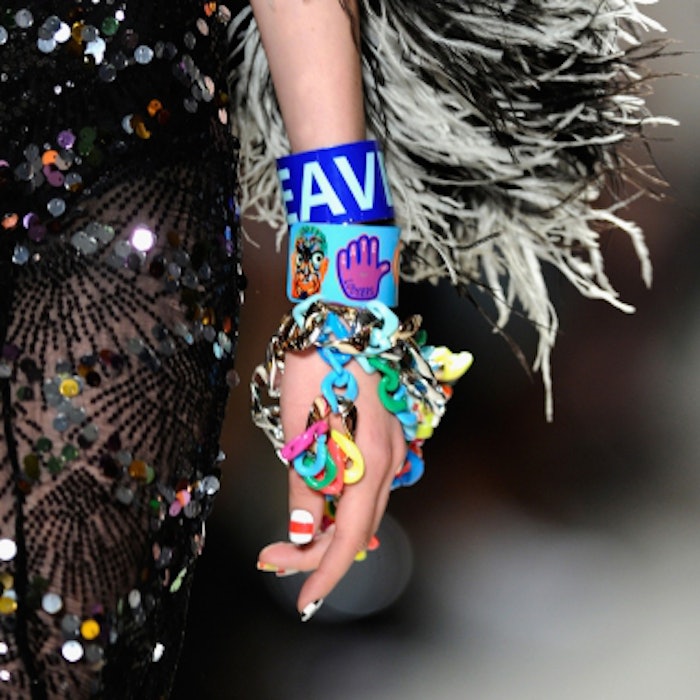 Global leader in professional nail care CND partnered up with Libertine for the third time at their Spring/Summer 2016 NYFW Show at Skylight Clarkson Square. The presentation revealed a raw, rebellious Blinky Palermo-inspired look.
CND Co-founder and Style Director Jan Arnold and Libertine style mogul Johnson Hartig created the perfect blend of high-key colors with precision vibrant nail patterns. Jan Arnold takes us behind the scenes in her collaboration with Libertine:
"His inspiration this season could not have been more in line with CND's Spring 2016 trend story, which is all about art redesigned and repurposed. Blinky Palermo was the ultimate art vandal, and Johnson is the expert at re-mastering the classics"
CND's Design Lab created the striking, tidy nail looks using Shellac and Vinylux in nearly-neon shades. The models fluttered across stage in Libertine apparel sporting four distinct CND nail styles for the perfect fusion of controlled mayhem:
• Blinky Blocks: These hybrid, color-blocked nails featured clean lines and juxtaposing colors.
• Checkmate: The infamous checkerboard pattern seen throughout other designers' collections set against neutral shades for a tamed, pop art effect
• Bad Penny: Inspired by a metallic rose gold shade from the upcoming Spring 2016 color collection, and embellished with copper foil and a mosaic of miniature pennies
• Veronica: These nails were completely covered in mirrored glass-cut baguettes in various sizes, accenting the elaborately designed garments.
"The nail concepts CND comes up with are ingenious. They took the art inspiration and reinvented it on the nails like a decadent gallery show on tiny canvases – we just get each other." said Libertine designer Johnson Hartig.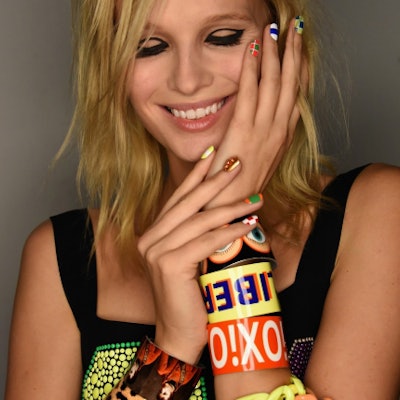 For visuals, how-tos, and behind-the-scenes coverage of CND's Fashion Week Spring/Summer 2016 designer collaborations and designs, head over to the CND Fashion Week Digital Headquarters at http://cnd.com/fwdigitalhq/.
– Issa lutfi
[Images: CND]