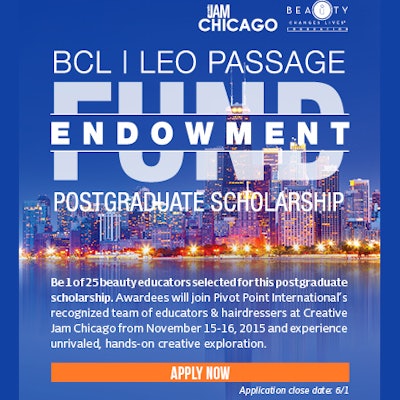 The Leo Passage Endowment Fund (LPEF), established mid-2014 with a generous $1M endowment from the Passage family, and implemented by the Beauty Changes Lives Foundation (BCL), announces the BCL Leo Passage Postgraduate Scholarship, the first competition for scholarships to be awarded to beauty and wellness educators.
Qualified cosmetology educators may apply for scholarship funds through June 29, 2015 at www.bloom.com/bclpassagespring15.
Twenty-five (25) scholarship recipients will receive up to $2,000 each, including travel assistance, to attend Pivot Point's Creative Jam Chicago, to be held Nov. 15-16, 2015. This first Creative Jam in the United States will explore the intersection of the artistic process with the craft of hair design.
The sessions will challenge participants to adapt core principles applied in art, while creating innovative hair designs infused with energy, and reflecting local and international cultural elements. From past Creative Jams in Sweden, The Netherlands, Taiwan, Mexico and other countries, attendees and scholarship recipients will experience an atmosphere of inspiration and motivation that will propel their work in guiding NEXTGEN beauty and wellness professionals.
The BCL Leo Passage Postgraduate Scholarship was introduced at the BCL 2015 Legacy Award Honoring Leo Passage. Held during America's Beauty Show, the event at Chicago's Art Institute recognized and celebrated Pivot Point International, Inc. Founder Leo Passage and his passion for hairdressing competition, scholarships and sustainable learning.
At the Legacy Award event, Lynelle Lynch, president of the Beauty Changes Lives Foundation, noted: "Throughout his career, Leo Passage integrated his passion for art – particularly the Bauhaus principles of art and design – into hair design. BCL is honored to celebrate his legacy through the gift of education." She added that the addition of the Leo Passage Endowment Fund expands the depth of BCL's postgraduate offerings.
Pivot Point International Chairman and CEO Robert Passage added, "My father's vision was always focused on the next generation of designers. He knew there was so much talent to be developed by the leaders and experts of our industry. It was his belief and mission in life to share what he knew with others. He often said that his greatest achievement was making a positive impact on peoples' lives through education. With this endowment fund, his impact on the professional beauty industry will live on for generations."
A panel of industry judges will select scholarship recipients. The postgraduate scholarships provide attendance at a two-day immersive Creative Jam workshop. Core components of the experience include creating a mood board that expands artistic expression in hairstyling, instruction on the translation and interpretation of local and international cultures, and an educational philosophy that celebrates the inspirational process that drives artistic expression. The Beauty Changes Lives Foundation serves as the administering body for the scholarships that will be awarded to licensed cosmetology educators through the BCL Leo Passage Endowment Fund.
[Image: Beauty Changes Lives]