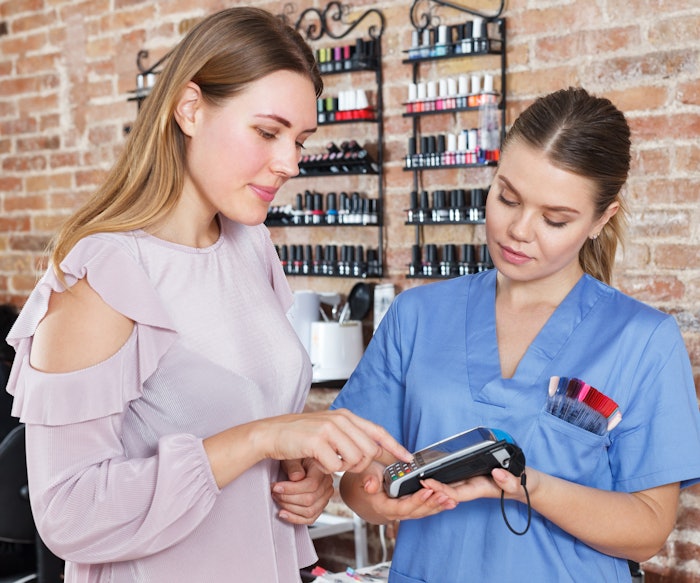 When it comes to boosting your bottom line in the nail business, certain strategies may seem like no-brainers, such as learning the latest technique, taking as many appointments as your schedule will permit and upselling services.
But, sometimes the conventional wisdom needs to be flipped on its head or at least approached in a slightly different way. Here, with the help of real working techs, we present nine unexpected—but incredibly effective—ways to increase your profits and grow your business.
1. Limit your service list.
There's a common misconception that offering a variety of services increases your money-earning potential. However, not all services will lead to the purported profits. For example, how much do you actually earn by offering polish changes?
"They were time-wasters that didn't earn me enough money to bother with them," says Jill Wright, a Bowling Green, Kentucky-based nail tech and coordinator of the Nail Tech Event of the Smokies, who decided to eliminate that particular item from her menu.
Wright explains that booking 15-minute polish changes at random times creates difficult vacancies to fill if a client cancels, which tends to happen a lot, since clients don't seem to feel as guilty about skipping a quick, inexpensive appointment that they can do at home. Unfortunately, the short, empty time slot can't be filled with a pedicure, full set or fill.
"I had to turn down more business and lose revenue," says Wright. "Those 15-minute slots cost us big money when they add up over the course of a year!"
Instead, stick to services that you do well and are relatively interchangeable timewise, so cancellations and holes won't wreck your schedule.
2. Play hard to get.
How techs approach booking clients is just as important as the tools used to manage schedules.
"Be mindful of the language you use when scheduling appointments," says Celine Cumming, nail tech at Angel Nails in Middletown, Delaware.
Never reveal that you have an entire day open and the client can have any time slot she wants (even if it's true).
"Being busy implies that you are in demand, and people gravitate toward what's in demand and are willing to pay more for it," she says.
Wright agrees. She calls this approach the "fake it till you make it" strategy. Before Wright had a consistently full book, she would offer clients two appointment choices. If neither of the two appointments worked, she would tell the client that she would add her to her waiting list and would call or text as soon as she had an opening—even if her book was completely empty.
"Then, I'd give it about two hours and phone the client back with the good news that an opening just occurred for the time she wanted. Clients are always thrilled and thankful."
Of course, make sure that you don't overdo it and make your clients feel as though you're too busy for them! "
It's a balancing act," says Cumming.
3. Make clients book themselves.
Sure, clients love your Herculean efforts to squeeze them in, and you do want to create demand, but once you have that established, it's best to leave the appointment scheduling to your clients. After all, the time required to rearrange your book and the subsequent impact on your schedule isn't worth it. Allowing clients to self-book via an online scheduling service maximizes your calendar and frees up time to generate revenue.
"You'll have more hands-on time with clients and less administrative tasks to handle throughout the day," says Andrea Beight, owner of Chickettes Natural Nail Design Studio in Cleveland, Ohio.
Online booking services also minimize missed appointments by sending clients email and text reminders. Some services even keep credit card information on file, which means you can finally enforce your no-show and late cancellation charge policies—without feeling awkward. When booking clients on the phone or in person at the end of an appointment, be sure to enter the appointment into the electronic system to keep your schedule straight and take advantage of all of the perks the service offers.
4. Don't explain price increases.
Charging more may seem like an obvious way to make more money, but it's a difficult task for most techs.
"If I could go back to the beginning, I would never make it appear that I was uncomfortable with this," says Darlene Donovan, nail tech at Nail Creations in Derry, New Hampshire.
As product, supply and rent costs rise and market demands change, it's absolutely necessary to raise prices if you want to remain profitable over time. Simply post a printed notice at the reception desk, your nail table and by the salon sink so clients will know what to expect. That's it.
"Do not apologize to anyone for running your business like a business," says Wright. "Do grocery stores apologize to us when food prices go up?"
Still, there are some ways to make the practice more palatable—for instance, don't raise prices in the first quarter of the year when clients are paying off credit card balances or preparing for their tax bill. Instead, Wright recommends raising prices in late October. This is just in time for the holidays when clients want their nails looking good, so you're less likely to lose someone who feels like she can't afford to spend a bit more.
5. Use less product.
Margin, or the difference between what you charge for a service and your costs to perform the service, is a critical component of profitability that techs frequently overlook. Take a hard look at your true costs per service (CPS); often there is money being wasted before a service even gets started.
As an example, Cumming points to allowing clients unlimited access to polish prior to their appointment. Well-meaning clients generally waste globs of polish as they sample colors, and they may even damage brushes and leave caps loose, causing polish to dry out. Plus, additional acetone and cotton must be used to remove the test polish. Cumming avoids this by painting swatches of all of her polishes onto tips. Clients can then hold the swatches over their nails to decide what colors they like without digging into your inventory. During a service, use small dishes or trays to put product in rather than taking it directly from the original containers or bottles, adds Donovan.
"You will find your lotions and scrubs will go a lot further," she explains.
6. Get a side gig.
Techs are often told to keep a razor-sharp focus on growing their business and avoid getting distracted by other pursuits. But becoming a brand educator is a great way to earn extra money and promote yourself.
Professional nail brands are always looking for enthusiastic, skilled techs to teach classes, attend trade shows and demo their product for distributors. What you can earn varies depending on the brand and can range from a monthly retainer to an hourly rate or fixed fee for classes and demos. Some educators also earn commission on products sold during engagements. Plus, all travel expenses are paid, which can include international trips.
The real benefit is the exposure you'll get to a wide audience as a bona fide expert. Educators are often quoted in print and online media, and the extra title can attract new clients and justify higher service prices.
A tech can qualify with as little as three years of experience. Look for opportunities on your favorite brand's professional site, or send a resume to the company's director of education.
7. Study something else.
Continuing education is vitally important in this industry, but often techs focus on learning the latest and greatest techniques and overlook the value of business education.
"It doesn't matter how fabulous your sets of nails are. If you aren't good at running your business, then get ready for the school of hard knocks," says Wright. "You'll lose more money than you make; you'll be constantly searching for clients and you'll stay frustrated."
Boston-based nail artist Nina Park says that marketing classes have had a profound impact on her ability to brand herself. Marketing methods are always evolving, so Park takes social media marketing classes as often as she can.
Other general business classes, such as accounting, finance and management, can give techs the foundational knowledge required to make good business decisions, such as investing in equipment or buying the right advertising, which will lead to additional revenue.
8. Have clients come in less often.
Sure, a full book of regulars means steady income and peace of mind, but it can also feel like a broken record on repeat. Not only can this limit innovation and lead to burnout, but it also means that when one or two clients drop off for whatever reason, you'll be scrambling to fill their many now-empty time slots in your book, says Wright.
"Openings allow you to take more new clients whom you can groom to become steady clients," she says. "In addition, it keeps fresh blood flowing into the salon and will incentivize techs to keep up with new products and trends."
Naturally, there are clients and services that require visits at regular intervals. Before you do the full court press on a monthly manicure customer to come in weekly, take into account your full client base and schedule.
9. Go easy on the upsell.
Techs are constantly told to upsell products and add-on services as much as they possibly can—and generally, that's good advice. However, Wright suggests techs consider building some premium costs into their services instead of upselling.
"You'll project a higher-end image and attract more upscale clients," she explains.
For example, Wright stopped offering regular manicures and now only books spa manicures, which include a hand scrub and paraffin dip built into the higher price. In this way, she's guaranteed the revenue every time and avoids having to convince the client to spend more.
Of course, it's not always possible to build additional services into the price, so be on the lookout for opportunities to sell add-on services when your schedule allows. For instance, learn a few simple nail art techniques that you can perform quickly and charge extra for, suggests Beight. Ultimately, maximizing your profits all comes down to working smarter, not harder—even when that means rethinking what the definition of smarter really is.
-Leslie Henry is a business development executive, licensed nail technician and the blogger behind workplaypolish.com.
This article was first published in the February 2018 issue of Nailpro.