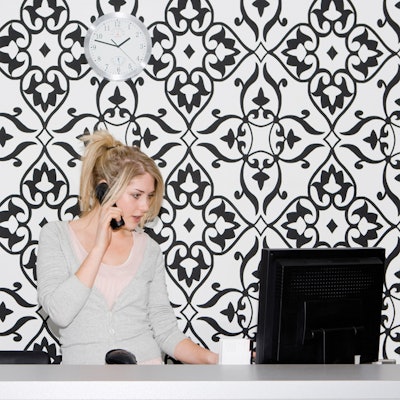 From appointment scheduling and point of sale apps to payroll and marketing features, there are the many ways that business software can help your salon run more smoothly.
When you went into the nail business, chances are you wanted to focus your talents and energies on what you do best: wowing clients with your spectacular services. But as you probably soon discovered, there's a lot more to running a successful salon than creating beautiful tips and toes. Whether you're juggling appointments or managing money, the list of responsibilities can be downright dizzying. Thanks to business management software, however, plenty of nail salons—from small studios to major chains—are leaving those headaches behind. Depending on which system and features you select, these programs can take care of virtually all of the mundane tasks that tend to encroach upon your valuable time. Here, salon owners and software companies reveal the top five benefits of salon software.
1) Offer clients an around-the-clock receptionist.
If your clients have to call or text during business hours to make an appointment, or you're still relying on paper and pencil to keep everything organized, you're sacrificing your sanity as well as good customer service. "When building a business in the services industry, it's crucial to have a reliable scheduling tool to book appointments and manage client relationships," says Devon Meyer, a product manager for Square Appointments software in San Francisco. That's why Reena Wiggins, owner of The Nail Nerd in South Jordan, Utah, got Square's booking software. "It's so convenient to have the scheduler right on my phone so I don't have to carry a big appointment book with me," Wiggins notes. "Plus, clients can book at their convenience—in the middle of the night or when I'm on vacation—when I couldn't possibly schedule them manually."
The scheduling option is a major draw with other software programs, too. "Offering clients the ability to book appointments online is a convenience that sets us apart from our competition," says Catherine Fain, co-owner of Paintbase in Raleigh, North Carolina, where Booker—the software company headquartered in New York City that includes SpaBooker and Salon- Booker—is the system of choice. Amneh Saleh, who uses MindBody software at Lacquer London, an eco nail lounge in Houston, agrees: "It provides clients with busy schedules an easy tool to schedule appointments online 24/7—even at the last minute, if available."
These programs minimize missed appointments, too, thanks to reminder emails and texts. "That's my favorite feature," says Wiggins. "I've had a couple of no-shows, but since I know my clients received a reminder email with plenty of notice, I don't feel so bad about charging a no-show fee." Prior to using the software, Wiggins wasn't comfortable charging that fee because she didn't have time to send reminders herself. "If they forgot about their appointment, I always felt that it was my own fault for not reminding them," she says. "I never have to worry about that again."
2) Become a marketing maven.
Many business software systems keep in touch with clients, above and beyond the appointment reminders. "The automated marketing messages save us time," says Saleh of MindBody's customer retention features, which include "We Miss You" and "Just Checking In" emails sent to clients on your behalf after a predetermined amount of time. You can even review reports that tell you how much your revenue has in- creased thanks to these reminders.
Fredrick, a program offered through Booker, knows when it makes the most sense to extend special promotions, too. "It tracks our slow times and sends out discounts for days that we aren't fully booked," explains Fain. Additional options, such as the Booker Marketing Network, allow you to display unfilled time
slots on partner sites, including Google, Yelp, Yellow Pages, MapQuest and SpaFinder. Plus, most software programs make it easy to publish specials and offers on social media sites. "The marketing tab helps keep track of what and where people are clicking through," adds Valerie Griggs, CEO for 20 Lounge in San Diego, who uses SpaBooker. "Our clients like a good deal, but they love an amazing service, so that's also key to know. SpaBooker sends a survey with each checkout, ensuring that we hear both the good and the bad for each service we perform."
Meanwhile, when a salon uses MindBody, they're automatically listed on the company's consumer-facing MindBody app. "The free mobile app [allows] all of your available appointments to be easily searchable and bookable by existing or prospective clients," says Stephanie Moran, MindBody's senior vice president of sales in San Luis Obispo, California. "Nail salon owners can also create their own custom branded mobile app [that pro- vides] flawless integration with their online booking. This is a powerful marketing tool, considering that when a client is willing to download the app on their phone, you know they will be a dedicated customer."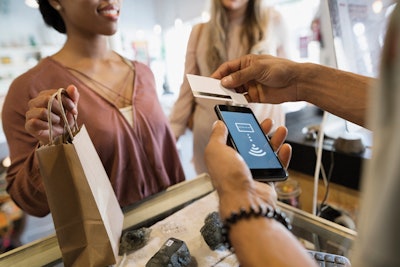 3) Simplify transactions.
Various software systems allow salons to accept all major credit cards and process them at competitive rates, whether they opt to purchase the software company's point of sale (POS) hardware (scanners, card readers, receipt printers, cash drawers) or use the free business apps that are often available for iPhone, iPad and Android devices. POS systems usually accept cash, checks and gift cards, and they may offer automatic tipping options, as well as the ability to send digital receipts to customers.
Typically, funds are deposited into your bank account as soon as the next business day, and instant deposit features may also be available. "It even takes care of reconciliations and daily cash drawer closeout," Saleh notes. Ultimately, the POS features help to simplify the salon's operations so it can run more smoothly, Saleh adds. "Most nail salons do not use a POS system and it lessens the client experience," she says. Fain agrees: "It really allows us to service our customers more efficiently."
In certain cases, e-commerce software is also available, so you can sell gift cards or certificates, memberships and packages, and even merchandise online. "I recently expanded my business, selling different nail tech supply products, and there's a Square feature that allows me to customize invoices for the products we are selling and even send them overseas," says Wiggins. "I have sent some invoices to the U.K., and Square does all the currency converting."
4) Make payroll a breeze (really!).
Managing money and paying employees are additional burdens that business software systems aim to ease. In many cases, you can pay any combination of hourly or salaried employees as well as contractors. The people you're paying submit all of their information online; they can even sign up for direct deposit. The software does the rest. It even generates and files tax forms. "We take the fear and guesswork out of doing your own payroll," says Charles Read, president/CEO of GetPayroll and Simon in Lewisville, Texas. "With the lifetime employee portal, the owner doesn't have to worry about printing pay stubs or getting year-end reports done; we do it automatically. It's a great stress reliever for the business owner."
The programs tend to be user-friendly and are designed to minimize money management mistakes, too. "Payroll is a breeze and so easy to navigate," says Griggs. Even so, a lot of software companies will cover you if an error does occur. For instance, Square's payroll specialists help make sure that your taxes are calculated correctly and that payments and filings are submitted on time. GetPayroll also takes a limited power of attorney, notes Read. "If something happens and the owner gets a letter from the IRS, we get the same letter," he says. "We contact the IRS on behalf of the business owner and usually resolve the issue before the owner even knows about it." Best of all, many payroll features are priced according to how much you use them. So, if you pay fewer employees from one month to the next, you're billed less.
5) Track what's working in the salon–and what's not.
Reports generated by software programs also allow salons to more effectively build their businesses. "Booker helps identify trends and retain customer preferences and appointment history," notes Fain. Griggs agrees: "SpaBooker is excellent because it allows us to see what our most booked services are, which promos work for us, which ones are mentioned most often and if we have to use a discount for a less than stellar service—which, of course, we hope never happens!"
Griggs is also a fan of the sales, tips, payroll and time clock reports. "Back in the day, we used the old-fashioned punch clock and it was just a mess," she says. "With SpaBooker, the staff can easily clock in and out, and if they forget here or there, we can easily find their time through the [software system]."
For Saleh, these reports are worth every penny spent on the software. "Without MindBody, I would have to spend a significant amount of time each week manually creating revenue, payroll, inventory and other various reports," she explains. "There are so many report options, and they include integration with other systems, like BeautyNow, QuickBooks and Referrizer." The bottom line: From one feature to the next, these software systems are all about saving you time and money.
–by Alexa Joy Sherman
[Images: Getty Images]
This article was first published in the October 2017 issue of NAILPRO